From buzzword to mainstream, global ESG (environmental, social, governance) assets could reach $53 trillion by 2025, according to Bloomberg Intelligence. The U.S. is expected to dominate the category by 2022. Still, the ESG space has yet to standardize green metrics—measurements, governance or results. That hasn't stopped a significant swath of investors seeking to tie their money to ESG-branded real estate.
As pay-off models and key performance indicators crystallize, the ESG movement continues to grow in commercial real estate—including apartments.
In the world of utilities, efficiency naturally feeds sustainability. And so energy management long ago became many apartment owners' gateway to green operations-driven mostly by trackable return.
When the FHA gave sustainability a push with green lending, financing became another stepping stone on the path to sustainability—again following a line of sight on pay-off through loan servicing.
In the same spirit, a number of large apartment owners and institutional investors are betting big that the green movement will convert to green premiums.
One notable player in apartment real estate is New York City-based Blackrock. The company is the world's largest asset manager with over $9 trillion in assets. In addition to large stakes in Apple, Microsoft, Amazon, Google, Facebook, Wells Fargo and JP Morgan Chase, Blackrock has significant holdings in commercial real estate with a history of rapid growth.
Blackstone acquired over 27,000 apartment units in recent years at a cost of over $4.7 billion. Units span California, Florida, New York, Washington, Boston and D.C.
In May, Blackrock announced plans to raise $1.5 billion for its U.S. real estate debt fund. The firm is positioning itself for refinancing opportunities as an estimated $2 trillion of U.S. real estate debt matures over the next five years. ESG is a highly publicized part of the Blackrock strategy.
At the beginning of 2020, Blackrock CEO and Chairman Larry Fink pledged to double ESG offerings, screening out those investments using fossil fuels, palm oil, for-profit prisons and weapons, to name a few.
Blackrock's market share affords an undeniable influence on the market.
In the beginning: The U.N. and Davos
The trillion dollar question is what is ESG. It was first mentioned in the 2006 United Nation's Principles for Responsible Investing, which provided broad objectives for U.N. member organizations.
Davos Manifesto 2020: The universal purpose of a company in the Fourth Industrial Revolution promised to clarify ESG expectations. The ensuing 45-page report is a collaboration of the World Economic Forum, the International Business Council, Deloitte, PwC, KPMG and Ernst & Young, and sets broadly defined objectives across 22 categories.
Today there are scores of green consultancies setting Balkanized definitions and ESG guidance that assess and score the green initiatives of U.S. business. Lack of unification and clarification, as well as extremely fluid metrics and categories, have created market confusion and accusations of "greenwashing."
Recent analysis by the Wall Street Journal attempted to quantify the performance of ESG companies, with mixed results. A study group of 494 companies, using three rating companies, were impossible to align due to differing rating sources and procedures. Many of the companies were assigned greatly different market rankings just across the three ranking agencies.
Defining ESG is clearly the greatest challenge facing the fledging industry, as definitions span everything from fossil fuel use to hotly debated social issues.
"The strong disagreement in the market does not allow the ESG relevance to be understood by the market," Monica Billio, professor, Ca' Foscari Univ. told The Journal.
Subjectivity is only one bias
The correlation across ESG rating agencies is mathematically weak. Research by Berg, Kolbel and Rigobon found that ESG rating agency metrics correlated 0.40. In comparison, credit rating agency metrics are 0.90.
Unified scoring would simplify the metrics, but it's nearly impossible to equalize variant business operations (big, small, local, regional, national, international, affordable, market, student and more). Then there's the inequity of ESG issues.
In accounting, expense is judged by its direct or indirect impact on the bottom line. Many ESG indicators are subjective assessments without a clear line to return.
Some agencies consider government lobbying detrimental to good governance, while others do not. Others weight social initiatives higher than environmental action. Larger, multi-national companies, and European companies have higher ESG scores showing certain intrinsic bias in scoring as well.
ESG guidance has now garnered the attention of the Securities and Exchange Commission, intent on regulating the nearly $17 trillion industry (2020).
Even as key performance indicators, historic basis and quantitative results remain murky, it is clear that certain segments of U.S. businesses, including big influencers like Blackrock, see ESG as the next frontier.
Former Blackrock executive Brian Deese, recently head of ESG promotion at Blackrock, is now the director of President Biden's National Economic Council. Sorting through the economics of ESG will be a focus for at least the next several years.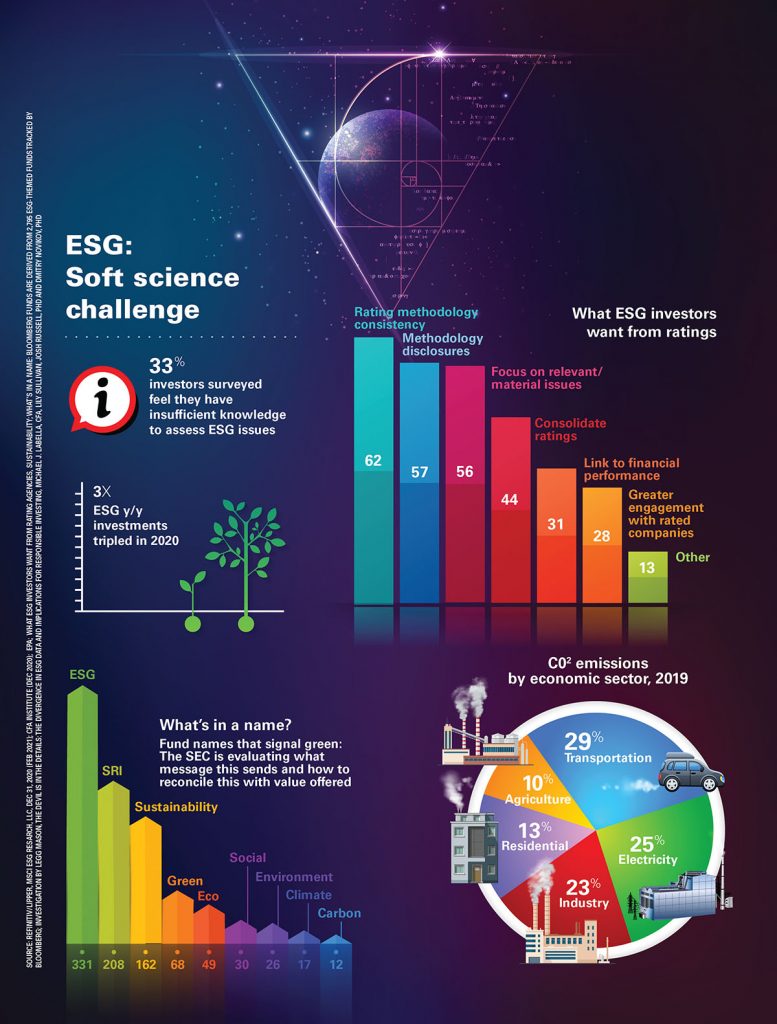 If you enjoyed this article, please consider sharing it!