Today's apartments are about experience. Onsite amenities, chic fixtures and smart appliances continue to permeate the market, but connectivity determines how well they function into a whole experience.
Smart facilities management delivers an attractive return on operational efficiency, while a great resident experience translates to better effective rents. Advances in connectivity greatly elevate both.
The competition for renters is fierce and growing. On its face, the number of renters continues to outstrip inventory. And if it were just about filling units—at any rent level—owners would simply sit back and collect the profits. But the market is complicated, and growing more so by the day.
Work from home means that prospects have a greater radius of choice. For owners, this means that a property's competition has widened geographically.
How well a property performs in its class, demographic and location begins with physical structure, but even structure builds into the whole experience. Today, that experience includes more and more unseen benefits carefully curated to elevate not only the resident's lifestyle, but also their health and well-being.
Especially in the wake of COVID, healthy apartment buildings have become a social priority and a point of market competition.
Technology has afforded a direct means to measure and monitor the quality of indoor air, reducing moisture issues and even encouraging resident fitness.
For plant operation, today's tech delivers real-time data on HVAC, utility and energy performance, going as far as performing regular system diagnostics and alerting owners to potential issues in advance of failure.
Advancements in smart equipment and plant operations continue apace, meaning greater and timely visibility into asset and equipment performance.
The arrival of 5G networks will greatly improve apartment operators' real-time visibility into apartment operations, amplifying building automation, smart solutions and predictive maintenance applications. This will further reduce the time and cost of equipment and machine upkeep, and control site expenses, like utility consumption.
Such internet of things (IoT) applications sometimes require higher speeds, but the larger issue is the continuity of the data stream. Instant connection and stabilized service is the game changer that will propel IoT, machine-to-machine (M2M) learning and other facilities management functions to greater returns.
Most IoT, M2M learning and similar tech brings an increased sensitivity to delay, delay variation and packet loss. Lack of service continuity means data loss or operational interruption. The more advanced 5G connectivity improves reliability for monitoring energy, utility and system performance in real time.
Better buildings, better quality of life
Building health is nothing new for the commercial space, but it is gaining traction in the apartment industry.
Healthy apartments and clubhouses not only attract health-conscious residents, but also those interested in sustainability. Properties designed to promote physical activity, maintain occupant safety, instill well-being, even provide healthy food options, also create communities that feel better physically.
Many new apartments include built-in systems to prevent mold and moisture, monitor and calibrate clean air and water, avoid exposure to toxic chemicals, encourage fitness and support healthy circadian rhythms.
Building healthy properties also improves sustainability and energy management. Regular maintenance supports continued clean air and hygienic surfaces, and assures residents that wellness is a priority.
Better buildings, better performance
Through energy reporting and benchmarking, operators can determine if a building, equipment or process is functioning at peak performance.
Building health automation operates best with ultra speed bandwidth, enabling AI to provide data in real time. G.fast, also known as fiber-to-the-distribution point (FTTdp), is a silent game-changer in multifamily. It lets property owners bring gigabit-class bandwidth to a property and to individual units without disruption to the premises.
With the ultra fast speeds and greater reliability of 5G, measuring and monitoring property performance will see another huge leap in ease of process. This will cascade into a cleaner line of sight on achieving building health designations. Participating in such benchmarking programs are becoming mandated by more local, state and federal legislatures, but also resonate with many residents keen on sustainability.
Fitwel or WELL Building Standard designations—similar to the green building rating system, LEED—help multifamily owners achieve healthy building status, as well as market to residents preferring fit homes.
Multifamily buildings earn designations through well-building programs by meeting certain criteria that promote good health—like clean air and water—as well as elevate healthy environments in other ways.
Amenities and proximity to opportunities for exercise, healthy eating and other wellness practices play a role in determining the building's health rating. For instance, a property within a walkable community scores higher than one that is not.
Fitwel's certification focuses on 12 key areas to evaluate the evidence-based design and operational strategies that support human health in multifamily buildings. The WELL Standard focuses on health categories that directly impact residents, including air, water, light, fitness, nourishment, comfort, and mind.
Both programs tell residents that the property operator is seeking to create healthy spaces, as much of the general population spends more time indoors.
5G: faster connectivity for residents
Reliable, secure, fast connectivity continues to play a dynamic role for residents who own multiple personal devices. The new standard is not just a quiet, safe place to live—but four or five bars on a cellphone.
However, while a resident's Wi-Fi may work well inside the apartment, the property's signal may be spotty in common areas. With 5G, residents get faster, resilient connectivity with little network investment that might ultimately raise rents.
Mission-critical operations such as virtual and self-guided tours that depend on a strong signal also stand to benefit. An uninterrupted signal can mean a new resident for the property.
Imagine community-wide possibilities
Communitywide wireless is an optimal model for facilitating 5G and the newest generation of WiFi connectivity, wrote Doug Lodder, Boingo SVP, Business Development in Broadband Communities Magazine.
A "connectivity layer" blankets the entire property with secure WiFi, essentially covering the bases for the latest in IoT.
"Imagine what property managers can do with all that extra time—all while ensuring lease-ups," Lodder writes.
Also, envision a maintenance technician routinely identifying in real-time a potential HVAC system failure during a heat wave and heading off issues before they start. All from a mobile device, and maybe from across town, tapping into a reliable signal.
While 5G holds promise, making the leap isn't for novice technology staffs.
Relying on a trusted IT professional to determine the right path for any property is good business.
5G installation requires significant infrastructure upgrades.
Technology allows operators to make a big leap forward in the name of building health, and go where no signal has gone before.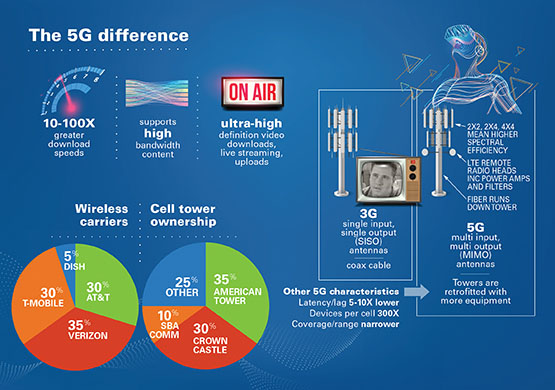 ---
Author Tim Blackwell
If you enjoyed this article, please consider sharing it!