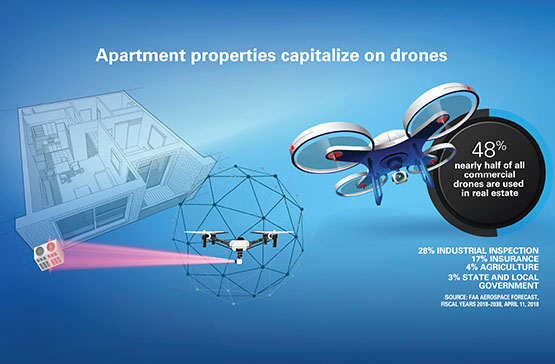 Drones have created quite a buzz. Visual inspections are just one of many field advantages UAVs (unmanned aerial vehicles) deliver. Drones mean greater operational efficiency and new streams of data for property owners, managers and maintenance teams. A drone can be sent into remote locations and hard-to-access places without ladders, scaffolding or harnesses. Drones are not only more efficient, but can be equipped with special sensors or thermal cameras to identify where heat is leaking from a building and more.
Virtual inspections lead the way
Multifamily businesses adopt technology in increments. It starts simple like automating repetitive back office or accounting processes. With earned trust, these typically build into other measurable, quick-return investments like facilities IoT, energy management and smart equipment. The common thread in today's prop tech is that it leverages data into greater insights, which leads to operational efficiency, which leads to profitability. Like any value add, prop tech must yield measurable ROI. And the data indicate it does.
Businesses that rely on data to make decisions are 58 percent more likely to beat revenue goals compared to non-data driven companies reports Forrester. Yet data is not even considered in 43 percent of today's operations.
Apartment businesses have long mined data to attract and retain residents (market-facing), and manage risk (facilities-facing). Machine learning and AI have energized data usefulness delivering greater granularity on property performance, predictive analytics and market context.
Real-time data is now writing the next chapter in managing properties, buildings and equipment—a trend greatly accelerated over the last year.
Lockdowns expose weakness
Lockdowns proved an unintended case study on the value of remote facility monitoring, maintenance, repairs and more. In some cases, data and automation became the only visibility owners and operators had on millions of dollars of assets in parts of the country.
Real time data enabled teams to operate in varying degrees of local and state restrictions. Property operators had to quickly adapt to increased time spent by residents in their apartments, and a new level of property traffic from increased package and food deliveries. Community infrastructures were suddenly and greatly impacted as utility consumption, appliance and equipment use and trash generation began to rise to unprecedented levels. Maintenance requests soon followed.
Property managers fortunate to have automated systems, were suddenly and solely reliant on these systems to conduct business, handle daily transactions, and monitor and maintain facility operations at full and continuous operational capacity. The impact of lockdowns on apartment businesses was unprecedented and unlike that for any other industry.
Prior to the pandemic, real time monitoring—already used to audit utility consumption, monitor water pipes, HVAC equipment and more—had matured from simple data collection to AI-enabled skills like machine-to-machine maintenance and real-time status alerts.
Such technology may be the apartment industry's simplest path to building operational continuity and resiliency into the future. Smart facilities monitoring, inventory control, and equipment repair, has been an integral part of manufacturing and warehousing for over a decade. Borrowing from its success in these complex environments, this tech is now transferring into the apartment space with great success.
Threats to business continuity will continue to present risks to multifamily operations. Now is a good time to step back, assess and prepare. Multifamily has long borrowed from hospitality tech in the area of energy management, security and creating experiences. It makes sense to seek the best examples of plant management and maintenance, and draw from those proven advancements as well.
The speed of business
What exactly is real-time data? Sixty-nine percent of companies think that real-time data is information collected one second or more from its creation, according to KX research. However, thirty-one percent of decision makers are already thinking at the sub-second level. If we're talking about a burst water pipe, a gas leak or a power outage taking down a network, it's easy to see how even sub-seconds could equate to costly disruptions.
Utility and facilities management, security access and package handling are examples where real-time data is used in apartment communities today. Yet adoption remains sluggish. Two-thirds of organizations agree that real-time data is needed for better decision making (KX), yet still face unintegrated, channeled sources of data.
Maximizing real-time data in today's operations will create exciting opportunities—as innovation always does. But it will also require systems integrations in order to truly reap the full benefit of its application.
One of the newest streams of real-time data is coming into apartment operations from the use of commercial drones for virtual physical audits, property inspections, site surveys and more. While the apartment industry is not known as early adopters, the use of UAVs, more commonly known as drones, may be an exception.
Automation 2.0
Nearly three million commercial drones are projected to fill the skies by 2022. Construction management, surveys, marketing and other applications have placed real estate ahead of all other industries in capitalizing on this newest tech. In fact, nearly half of all drones are used in real estate, particularly commercial and property management.
Drones allow for more frequent inspections and visibility into hard-to-reach or dangerous places—while capturing more accurate data. As with all automation, the point is to free humans to address higher-value points of operation that require logic and reason. Drones are far more efficient for mundane, repetitive tasks.
Equipment maintenance is just one application where a cost-benefit analysis supports the use of drones on properties. Inspections are the first step in the maintenance process, sometimes followed by needed maintenance.
In fact, only 10 to 20 percent of inspections find a problem needing repair, according to flyability.com. That means 80 to 90 percent of inspections do not result in a repair and do not require a maintenance person. Automating inspections could result in thousands of dollars in savings and free maintenance teams to focus on repairs.
Given the declining cost of drones, many properties perform more frequent drone inspections than they would manual inspections, meaning problems are addressed more quickly.
Drones also deliver better data and asset history over the life of the equipment, which can be used to trigger automated responses. Some property assets that can benefit from drone inspections: roofs; buildings and other structures; land, construction; fencing, walls and other barriers; chimneys; and solar panels.
As the technology improves, drones will continue to change how the industry does business. A recent study by PwC found that drone-enabled property audits were completed 85 percent faster than manual audits. Drones provide more data, as well as a permanent record of maintenance throughout the site lifecycle. And good data is key for property operations looking to manage their building assets.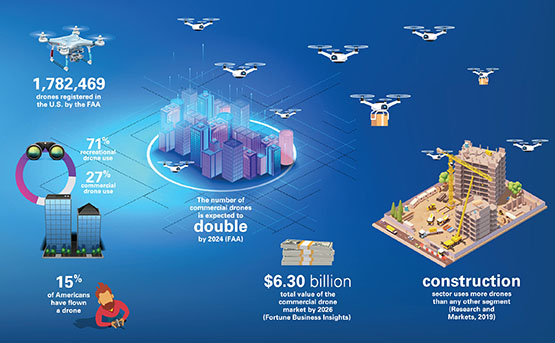 If you enjoyed this article, please consider sharing it!