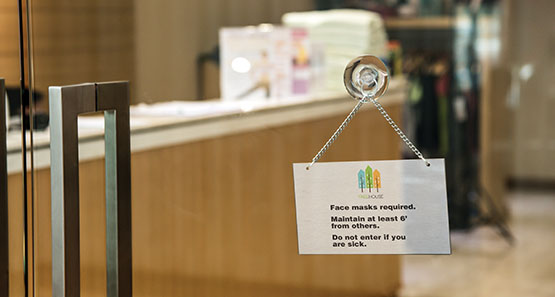 As our industry starts to get back to "normal" after the peak of the COVID-19 pandemic, we are seeing dramatic shifts in the way we operate our communities. We are also seeing a shift in resident expectations and preferences. In these times, we need to be adaptable and responsive to what our residents want—as well as what is needed to resume operations.
Here's what is occurring at our communities as we embark on establishing how our communities will get back to business.
The changing face of amenities
As amenities begin to reopen across the country, things look quite different. Some amenities remain closed, but many are reopening with changed rules, adjusted occupancy limits and new configurations.
For example, a pre-COVID 24-hour fitness center is now open only during business hours. The maximum occupancy was set at 25 people when the property opened, but management has now changed that to 8. Residents must make an advance reservation through their resident portal to use the fitness center.
The swimming pool that was once the place to be on hot summer days remains closed. Management is discussing opening it later this summer but will reduce the number of lounge chairs from 30 to 15, and they will have to hire an attendant to help maintain and enforce social distancing. The hot tub will remain closed, since its seating places occupants too close together.
Traditional tour alternatives
The leasing office used to welcome as many walk-in tours as they could get and would go to great lengths to attract a large number of people through the door.
Today the office has just reopened, but desired traffic patterns are much different.
Walk-ins are discouraged. A large sign in front of the leasing office entrance reminds anyone entering the building to wear a face covering, distance 6 feet from others and avoid entering if they have any signs of sickness.
Inside there are decals on the floor reminding people where to stand. There are plastic shields on top of each desk. Desk chairs are placed further back. Waiting area furniture has been removed.
Prospective residents calling the community are encouraged to take a virtual tour or view a video of the available apartment home rather than come in for an in-person tour. Anyone actually visiting the community must take a self-guided tour, or partially guided tour, in order to ensure proper social distancing.
Most leasing team communications are electronic and virtual, rather than in-person connections with residents and prospects.
Resident expectations
Residents are vocal about wanting the amenities reopened, but they are also expecting us, as operators, to implement measures that promote health and safety. Residents frequently want to know "what we are doing" to make our community safer.
A frequent resident request is around elevators—clearly outlined and labeled rules for capacity, social distancing, and germ protection. They want to know the cleaning frequency and are requesting items like self-cleaning germ shields over the buttons, etc.
Managers are scouring their maintenance supply catalogues and websites to find items like touch-free door handles, hand sanitizer stations, and extra cleaning supplies.
Cost savings
With the economic impact of COVID-19, many apartment owners have renewed focus in looking for cost-saving opportunities. General operating expenses such as marketing, resident retention, and others have been under close scrutiny and reevaluation since the beginning of the virus.
Management companies have been asked to re-bid services, cut expenses and provide reforecasts throughout this crisis.
Utilities with more residents home
In these recent months, our communities experienced many residents at home all day—quite uncommon in a traditional multifamily environment. As expected, we saw utility consumption increase. We also saw an increase in waste in our dumpsters.
Ongoing operational changes
COVID-19 has impacted how we collect rent (requests not to bring it in to the office; local or federal regulations may not allow for late fees to be charged or evictions to be processed), how we communicate with our residents (much more virtual and web-based), and it has increased demand for services such as virtual tours, enhanced digital marketing, amenity reservation technology, and others.
Residents have new expectations for how we manage our communities and expect different things for their rent than they did even a few short months ago.
Multifamily management is changing and is adapting to our new world.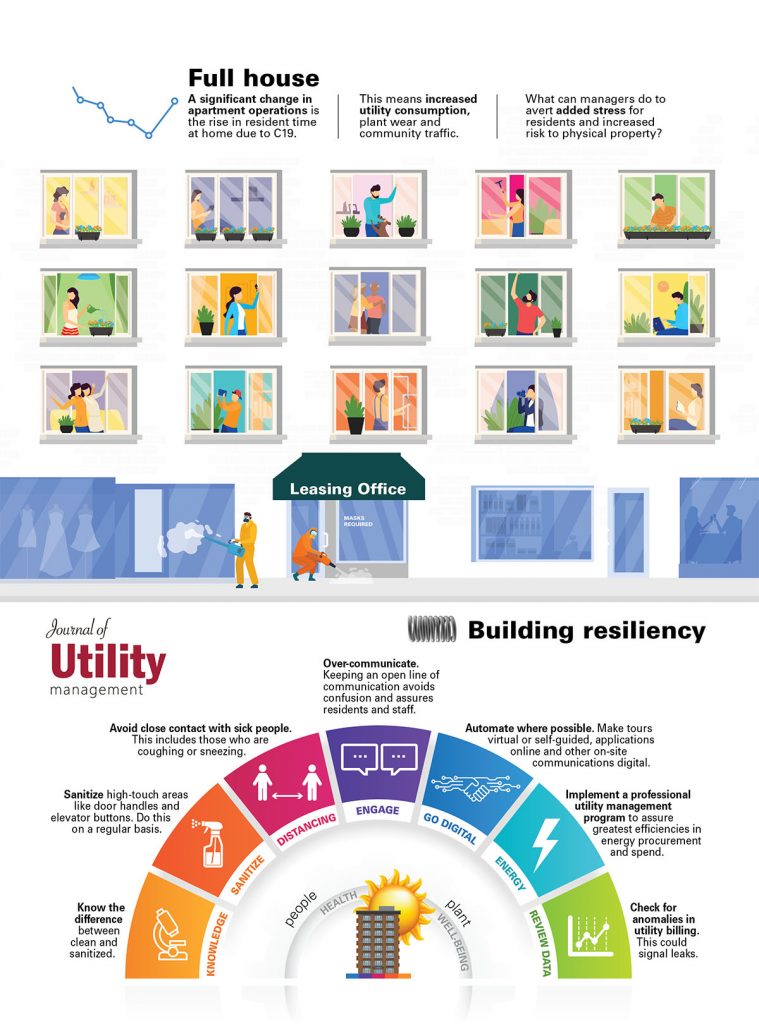 ---
Lori Hanson is Operations Manager for Greystar.
If you enjoyed this article, please consider sharing it!