"If you want to be an innovator in the utility management space, then adopt the SimpleBills model," Jason Lindwall, RealPage SVP of Utility Management said. "This is the future of utilities."
Since its genesis over 10 years ago, SimpleBills' services have given property managers that lightbulb moment upon realizing their job has the potential to get a whole lot easier. By taking everything utility-related off the site staff's plate, properties everywhere are given the freedom to do what they were hired for: lease units and drive resident satisfaction.
"One thing we've learned about utilities over the years is that many people in the industry do them the way they've always been done," SimpleBills CEO Colin Heller said. "They don't know there's another, simpler way to manage utilities that can evoke a positive resident experience."
Heller and SimpleBills President Kevin Jones started out as roommates at Baylor University back in 2008. Like many college roommates using the standard model of utility billing, one of them always had to take the hit for the utility bill and wait to get reimbursed for the other's portion.
Legend has it that a certain someone (we won't name names) would consistently forget to pay the other back. As you can imagine, this caused some unwanted tension between the two, leading them to believe there had to be a better way. From there, they developed a step-by-step method for billing and collecting that had fellow Baylor students lining up:
This method became the foundation of what is now SimpleBills.
"We knew we created something special when we realized how much easier this was making students' living situations," Jones said. "We just couldn't believe no one had thought of it before."
After years of growth and innovation, Heller and Jones, along with a team of experts, have transformed the business into a complete utility management service that reaches student, single family and multifamily markets nationwide.

No prefunding
Unlike the old-fashioned model, SimpleBills does not require prefunding when billing and collecting from residents. Since their billing cycle isn't tied to the property's rent cycle, residents can expect their bill from SimpleBills about 1-2 days after they collect all utility bills from the provider. Compare this to the 30-45 days of floating resident utilities while waiting to get reimbursed, only to face the challenges of matching expenses and offsetting revenue. Then comes the challenge of navigating how to run a property when nearly half of their NOI is constantly tied up. With SimpleBills, the property staff is free to use their funds anywhere they see fit without having to worry about balancing books or handling resident concerns.
Estimated final bills (EFB)
The last month of utility billing for each lease has posed a challenge for property managers everywhere over the years. Since residents are billed after move-out, the probability of them paying their final utility bill has proven to be very low. The industry average for collection rates on bills is about 40 percent, causing properties a large financial loss. The EFB was created to ensure higher collections by invoicing the resident an estimated utility bill before move-out. Each number is calculated by a team of utility experts who use weather patterns and previous utility usage per unit to nail down an estimate. Across the board, calculations have proven to be 95 percent accurate.
Property and resident portals
Coming from the perspective that it's easier to make decisions when well-informed, SimpleBills designed two portals: one for each property and one for each resident. The property portal contains information on common areas, vacant units, month-to-month variances, and floorplan averages. Having access to this information has proven helpful with leak detection and overall money savings. As for the resident portal, each resident can see PDF provider bills, usage breakdowns per utility, bills from previous months, and information on how their utility costs stacked up to others' in similar floorplans.
Customer support
SimpleBills' 4-star+ rating on Google is flooded with comments about customer service. With a customer support team open 7 days a week via call, chat, email and phone as well as over 200 HelpDesk articles on the ready, residents can get their utility questions answered in a matter of minutes without needing any assistance from property staff. As for site staff, designated account managers are assigned to each property to address questions and concerns from 30,000 feet down to the detail.
"It's clear just from the outpouring of customer response that SimpleBills is not like the rest," Lindwall said. "Utility management is a complicated business that site staff weren't trained or equipped to handle. SimpleBills has developed their processes in such a way that it has not only relieved property staff of a large burden but also given residents an incredible living experience."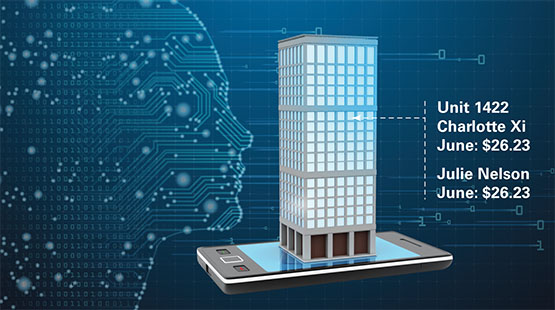 ---
Allison Arnold
If you enjoyed this article, please consider sharing it!