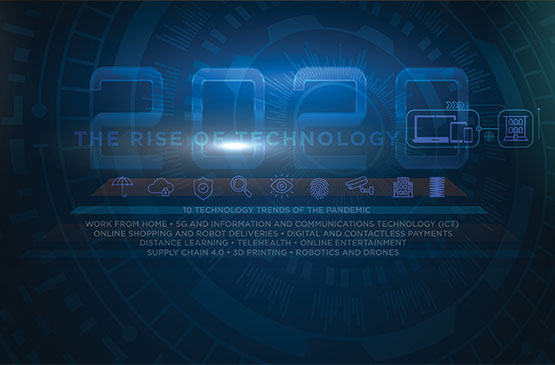 The pandemic changed the world of apartment operations seemingly overnight. People who had never heard the phrase "social distancing" quickly became dedicated practitioners. To say that the mass change in social behavior had a ripple effect on apartment operations would be a huge understatement. It was more like a tidal wave.
The pandemic exposed inherent weaknesses in the product and service delivery of rental operations across the nation. Fortunately, technologies that support apartment operations in a socially-distanced, even contactless environment have been in development—even deployment—for some time.
Abruptly threading the whole of an apartment operation solely though the needle of technology and automation was a grand experiment in business resilience and continuity. After all, apartment operations rely heavily on face-to-face human engagement.
Or do they?
New world, new values
Let's start with the basics. Operational continuity in any business, especially multifamily housing, begins with a strong Wi-Fi network. Internet becomes the business when it becomes the primary platform of operation.
A reliable internet service provider (ISP), with redundant providers for continuity, is core to building resiliency. Ruggedization means that a product or service is designed to withstand extreme conditions. While apartment management is not a battlefield, the pandemic showed just how mission-critical connectivity is to an entire operation. Connectivity impacts communications, operations and security and should be considered carefully for all possible conditions and events.
Ruggedizing apartment operations at the core of its structure hedges many risks and provides a layer of protection to all stakeholders in time of crisis—from prospect to resident to manager. It's also a win for property owners when a rental business runs with little to no financial disruption, even through a global crisis.
Through the pandemic, smart and automated apartments and operations had field advantage and learned the value of agility in real time.
Properties automated by smart management, maintenance and facilities processes were generally equipped to work through mandatory closures and lockdowns, while providing continuity of service to prospects and residents.
Such reliability in the marketplace—especially in uncertain times, is not soon forgotten and naturally becomes part of the community's public brand.
In the world of the theoretical, the pandemic proved an unintended case study on the value of technology and automation in building resilience into multifamily housing businesses.
Operations with a greater percentage of automated facilities and processes clearly experienced less disruption in service and revenue and were afforded more opportunities to work through the shutdown.
Here are just a few of the ways smart property operations overcame various levels of lockdown orders and provided value to their customers.
An apartment for all seasons
Smart apartments have grown in popularity, but as more residents began to work from home (WFH) through the pandemic—some now permanently—reliable, high-speed internet suddenly became a mission-critical component of their apartments.
From a precipitous rise in internet loads via teleconference calls, file movement, greater digital television use, even a rise in telemedicine services, those communities with high-speed internet accommodated the new normal with scale and ease.
Smart thermostats, Wi-Fi connected lighting, motion detectors, smart door locks and video intercoms—already gaining popularity—got another boost through the pandemic. Sales spiked in smart home devices by over 51 percent year-over-year as consumers added them, according to Xiaomi, a global smart device producer. Of those surveyed, 63 percent purchased smart home devices, 82 percent adapted a room for WFH, and 79 percent reconfigured at least one room.
"Smart living has always been about reimagining and optimizing physical space to solve problems and adapt to new realities through the use of technology. We've seen this adoption accelerate in 2020," said Daniel Desjarlais, Xiaomi. "Connected homes, automated systems and new technology are helping people create ecosystems within their homes to solve new challenges presented by increased time at home, whether it's adapting or creating new uses for old spaces, such as office space or classrooms, or just creating a more streamlined home that is easier to manage and control."
Home security tech, in response to external conditions ranging from social unrest to an increase in package and food deliveries, also saw an increase in product and service sales year-over-year.
Required in-unit maintenance increased as a result of more residents spending nearly all their time in their apartments. Automated maintenance scheduling and arrival notifications simplified maintenance calls, making repairs safely possible.
With advanced planning, residents could be in another room while the maintenance was completed. Similar scheduling apps have worked when restricting occupancy in exercise facilities and other community amenities, organizing between-use cleaning and sanitation, and scheduling resident use.
Touchless rental payments and other digital transactions are yesterday's news with today's pandemic appeal. The payoff period of such systems will further compress as social protocols—remnants of the pandemic—continue to linger and fuel greater market adoption.
In 2012, 70 percent of residents paid their rent by check, RealPage reports. By 2019, 76 percent of residents paid their rent electronically. Accepting rent payments by credit card without added fees was a huge boost to property cash flow.
Setting facilities operations to "away"
Smart facilities management has only begun to permeate apartment operation models to the extent it has in the hotel, office and other real estate sectors. The smart building market is expected to reach $25.7 billion in annual sales by 2025, according to Market Research Future.
Owners who invested in smart building management prior to the pandemic experienced accelerated ROI by way of uninterrupted monitoring and remote management of their real investments.
The ability to remotely analyze and address energy, utilities, irrigation, security and maintenance became a game-changer for apartment managers in the lockdown. Billions of dollars in assets were controlled with equal or better attention and care than before the lockdowns.
Virtual tours. Great move.
In 2019, 9.3 percent of Americans moved—the lowest rates in recorded history, according to the Brookings Institute. Just one year and a pandemic later, over 15.9 percent of Americans moved between the months of February and July 2020 alone, according to MyMove, an information platform.
The freedom afforded by WFH policies, a collapse of certain jobs sectors and residents fleeing urban cores frozen by stringent lockdowns are some of the reasons for the sudden spike in relocations. Experts expect the trend to continue. More than half of all workers would consider moving to a different city if their company extended the WFH policy, according to a Robert Half study. Fifty percent of companies are open to the idea of a permanent WFH arrangement.
High move rates typically equate to good times in the apartment business. Lay that against lockdowns and it could have easily meant opportunity lost.
Enter virtual tours.
Virtual tours, from video to user-guided-animation to virtual reality, have become indispensable tools under pandemic restrictions. Companies like Matterport create digital experiences of apartment floorplans that are then posted online.
For prospects who must see to believe, properties have also instituted physical self-guided tours where an electronic key is left for the prospect, in order to view the unit on their own. Prospects are typically also tracked via their key for optimal security.
Such self-guided tours require an infrastructure of smart locks, security cameras and key tracking. In its ultimate form, a self-guided tour is scheduled online. The prospect's identity is verified and he is issued access credentials shortly before the appointed tour time. Digital directions are sent to the prospect on how to reach the property and then the unit within the property. The prospect's location within the property is tracked using GPS, facial recognition at video intercoms and motion detectors. Lights are turned on in the unit and the thermostat is set to a comfortable temperature for the tour. A recorded description of the apartment's features that the prospect can listen to while viewing the apartment is sent to the prospect's smartphone.
Self-guided tours are essentially contactless. The convenience of being able to schedule tours after regular hours, and the reduced demands on the leasing staff, could make self-guided tours a competitive necessity in the future. RealPage reports that 86 percent of prospects say they would use self-guided tours if available. However, only 36 percent of properties currently offer self-guided tours.
Gateway to resiliency
The growing list of hardware and software it now takes to automate and manage an apartment property in today's world is found in the property portal.
The portal is equally important and core to the business as the ISP. Possibly more so, it could be argued. This is literally the property's operational engine and includes everything from resident lifecycle to facilities automation to management processes and more.
Resident lifecycle is a property's engagement with a resident from beginning to end (marketing, traffic tracking, available units, tour scheduling, resident pre-screening, application processing, retention, move-in/move-out handling and scheduling).
Given that 38 percent of prospects visit only one or two properties before signing their lease, this window of opportunity becomes all important in maintaining occupancy levels in all market conditions. It's critical that all-information, in its best form, be present to the prospect.
Humans are innately social. A millennium will not be changed in a single moment.
Humans are also inventive. Technology and automation pave the path to operational resiliency.
If you enjoyed this article, please consider sharing it!