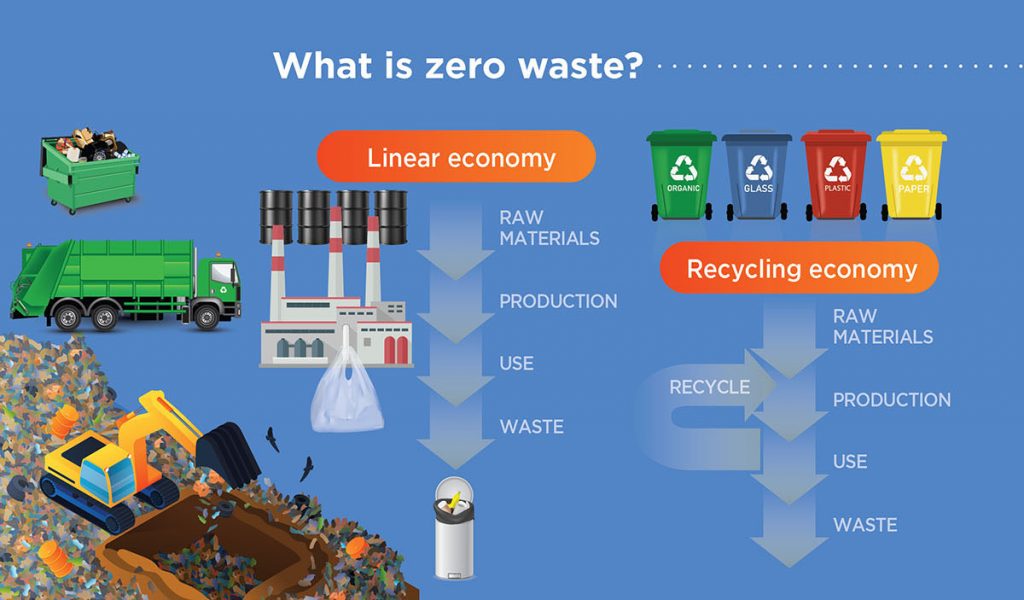 Have you ever watched a Godzilla movie? Just when you think Godzilla is on the ropes and going down, dying, he gets up stronger and more powerful and angrier. Recycling is kind of like that. For those of you who thought recycling was going down, it was going to die when China closed its doors to contaminated recycling, get ready for the recycling comeback stronger than you imagined as we move into the era of zero waste.
Zero waste is an objective (typically made by an agency, city, or business) to achieve 90 percent diversion of waste. This means that only 10 percent or less goes to the landfill or incinerator. 90 percent must be recovered or diverted in some way. Diversion can include upcycling (reuse), recycling materials to manufacture other things or composting.  Major cities, like Dallas, Boulder, Detroit, Boston, Austin, San Francisco, and New York are targeting zero waste objectives.
Multifamily owners and managers should note trends toward zero waste as these goals often turn into ordinances and hefty fines for violations.
As of January 1, 2020, the City of Dallas has mandated recycling at all multifamily complexes with eight units or more.  Multifamily housing comprises 50 percent of all housing in Dallas so this ordinance is significant both in its requirements and its penalties. Key components of the ordinance:
If your building has 8 units or more residents, you must offer recycling.
Provide 11 gallons of recycling per unit at minimum.
Submit annual recycling plan and affidavit of compliance with the City's multifamily code compliance division.
I recently spoke with two trash experts who are fluent in this ordinance and multifamily: Richard Bates, commercial property strategic account manager for Waste Management, and Richard Merrill, partner, Field Operations for TrashLogic.
"I believe Dallas wants to be relevant and competitive when attracting new companies to do business," said Bates. "When a Fortune 100 company like Amazon is deciding where to establish a new corporate office, sustainability is going to be considered. How well do the cities goals and initiatives align with their own? Corporate social responsibility is a key pillar in almost every Fortune 100 company."
"There is more to mandating recycling than just doing the right thing, there are economic drivers behind it as well," he said.
Merrill agrees. "There is also growing demand from residents," said Merrill. "We are seeing a trend in new residents who previously lived in single-family homes and are moving back into multifamily dwellings. It is resident-driven because that's what they are used to. As people move (to Dallas) from other metropolitan areas, they expect to see recycling services offered because it has been the standard in so many other places."
The city's new recycling requirements are not without implementation challenges. Multifamily operations are solving these in a number of ways.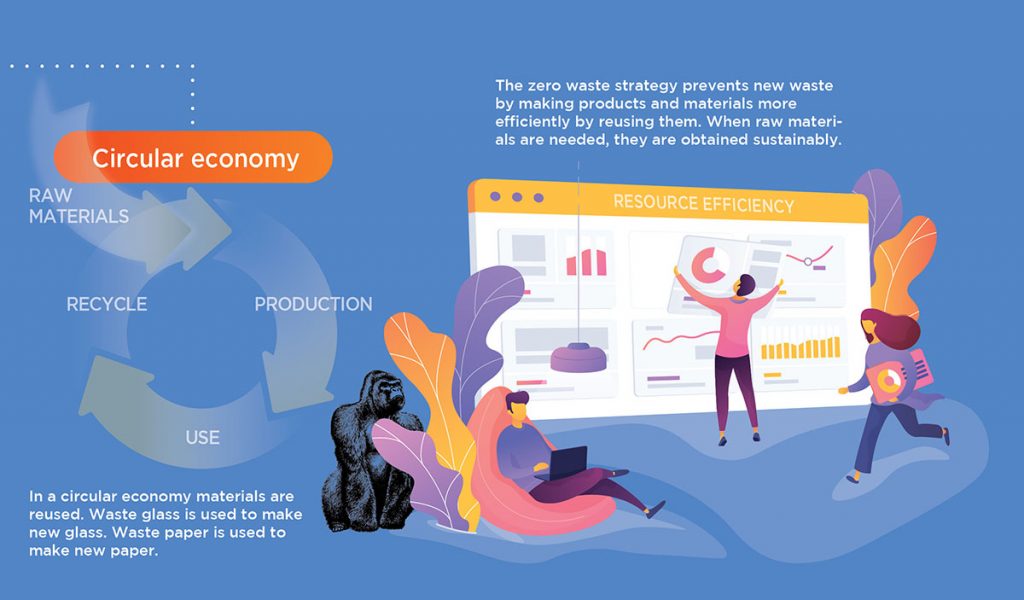 "Many multifamily housing communities in the mandated area were never really designed with recycling in mind. The mandate requires adding volume and service to sites that may not have room for an additional dumpster or adding a recycling bin near the current trash container," said Bates.
Since many properties are not physically designed for such an expansion of service, there's often a construction challenge to overcome. Most properties simply weren't designed for recycling. Adding the containers needed for the volume required can be a challenge. And recycling services must be available within a line of sight of trash containers, amplifying the logistical challenge.
"If the customer is space-constrained for dumpsters, I recommend toter services for door to door recycling," said Bates. "Owners can use a recycling hauler. The goal is the diversion, but the city is willing to work with owners that have challenges."
"Absolutely," said Merrill. "Space constraint is a top issue. Many properties were designed without waste processing in mind—even in new construction projects."
Creating an effective plan to add recycling to a property is often challenging, further complicated by moving it off the property cleanly.
"Most people think the hurdle is education, but it is space constraints," said Merrill. "What Dallas is doing well is allowing properties to develop their own programs and use innovative options. They have some freedom do it differently rather than just mandating that the local or franchised hauler do everything."
Merrill said that doorstep programs combined with recycling sorting and processing are a simple solution. Such programs allow doorstep providers to haul recycling off-site directly to the appropriate processing site rather than storing the recycle material on- site for a weekly pickup from the franchise hauler. This not only solves the space constraint, it moves trash off-site in a timely and efficient manner. But what are the costs associated with such programs?
There are three points to consider with regard to cost. "The first is that recycling is, on average, twice as expensive as trash service in the Dallas market," said Bates. "The second is the risk for contamination charges if residents do not put the proper material in the recycling containers." Different providers handle costs differently. Some do not charge contamination fees, but will not pick up bins with a large amount of contamination leaving the property team responsible for removing the noncompliant bins.
"The third consideration is time and resource drain on your maintenance teams," said Bates. Maintenance staff will need to manage recycling bins to assure that bulk items, plastic bags, and non-recyclable materials are not placed in recycling bins. Minimizing contamination charges is an important part of the recycling process.
Eventually there will be penalties of up to $500 for complexes that do not comply with the ordinance. Currently no fines have been assessed as the city works with owners to sort through the challenges of getting a recycling program up and running in a market where none previously existed.
That said, owners should look ahead and start to consider ways to future-proof their buildings. Although recycling may increase costs, not recycling could cost even more.
Recycling is only the beginning as cities and businesses continue to forward their zero waste goals.
Godzilla isn't dead. He's rising, stronger than ever. Don't forget, Godzilla has friends. Mothra may be coming.
---
Mary Nitschke, Publisher
If you enjoyed this article, please consider sharing it!