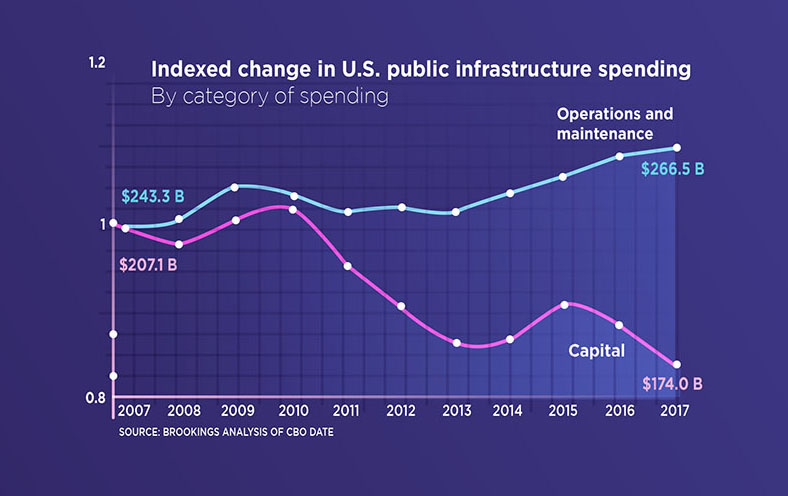 Nationally, apartment starts in 2019 were 116 percent of the 2018 level. Analysts expect a 1 percent increase in new apartment projects in 2020, followed by a 4 percent increase in 2021. Even with continued rent growth in many areas, as well as 22 percent of young adults (ages 25 to 34) delaying household formation, rental owners justifiably remain uneasy about the future. There remain unknowns like rent control, water quotas and rolling blackouts—all threats to operations, controlling expense—and profitability.
Last year marked the 10th straight year of growth for the U.S. economy. The multifamily housing industry is expected to perform, even expand as renters from all demographics continue to fill its units.
Times are good. Yet, the industry's rising utility spend, local and national regulations around benchmarking and conservation, and the growing optics of sustainability are good reasons to plan ahead.
Aging gas, water and power infrastructure, and changing global markets for trash exporting are just some of the hard and fast realities in the world of utilities—even before adding in evolving social attitudes on climate change, its potential and timing.
Powerful economy, aging grid
The U.S. power grid delivers more than $400 billion of electricity each year across 7 million miles of line. While it keeps the world's largest economy humming, it's also an aging infrastructure in serious need of more than $1 trillion of repair and upgrades. These improvements would make the grid more reliable, resilient and efficient, while also cutting carbon emissions.
On the profitability side of the model, electricity is a business under pressure. The U.S. power grid loses 5 percent of its transmitted electricity. Electricity consumption has flatlined as users and their appliances have become more energy-efficient. In California, the state's largest utility filed for bankruptcy and now cuts power to customers on high fire-risk days adding a large measure of unreliability to its service, driving customers to seek other sources including back-up fossil-fuel operated generators.
While the world of energy has changed, the nation's 3,000 utilities haven't altered their operational model in over 100 years. The argument for large, centralized utility companies that deliver electricity over long distances is now up against micro grids, and other emerging technologies like energy storage and net metering.
Half-century-old gas mains
The nation's average gas mains—gas pipes running under city streets—were, on average, 33.8 years old in 2018. A quarter of active gas mains are more than 50 years old.
Last year a report found that six major U.S. cities—Washington, D.C.; Baltimore; Philadelphia; New York City; Providence; and Boston—had methane leaks totaling more than twice EPA estimates. High-profile gas explosions have driven utilities to replace older pipes, as in Massachusetts where 45 miles of pipe were rapidly replaced in 2018 following a series of explosions.
New and abundant supplies have kept gas prices low, and concealed the costs of an aging infrastructure. But gas utility customers typically pay for infrastructure investments, as in Illinois.
The state recently approved Peoples Gas' massive infrastructure replacement plan to replace all gas pipes running under the city of Chicago. When finished in 2040, hundreds of thousands of customers could be paying $750 a year for the replacement effort, a report found. The total cost will be between $11,000 and $16,000 per customer served by Peoples Gas.
Taking water for granted
It's said that the industrial revolution was marked by three points of innovation. First the steam engine, mechanized cotton spinning, and railroads. The second, indoor plumbing, electricity and the internal combustion engine. The third, the computer and internet revolution.
While most inventions have subsequent, newer models, once those that require substantial infrastructure, such as the railroad tracks and water pipes, are built, the emphasis becomes expansion, not upgrades—until the system's level of disrepair exceeds the point of tolerance.
As many of the nation's underground water pipes reach or exceed their end of life, the average 240,000 water main breaks cost an estimated $2.6 billion annually. The American Society of Civil Engineers estimated the cost of degrading water/wastewater infrastructure at $59 billion (2013 to 2020) to households and $147 billion to businesses.
Most American consumers and businesses get water from one of approximately 51,000 community water systems. Fifty-five percent of those systems serve populations of 500 or less. Less than 1 percent of systems serve communities over 10,000. These large water systems are located in the country's 100 largest metropolitan areas, but serve 82 percent of the population.
The American Water Works Association estimates the cost of restoring underground pipes at $1 trillion over the next 25 years, not including building or repairing treatment plants.
Water utilities are selling less water due to a fall in usage since 2000 and a slowing of new customers.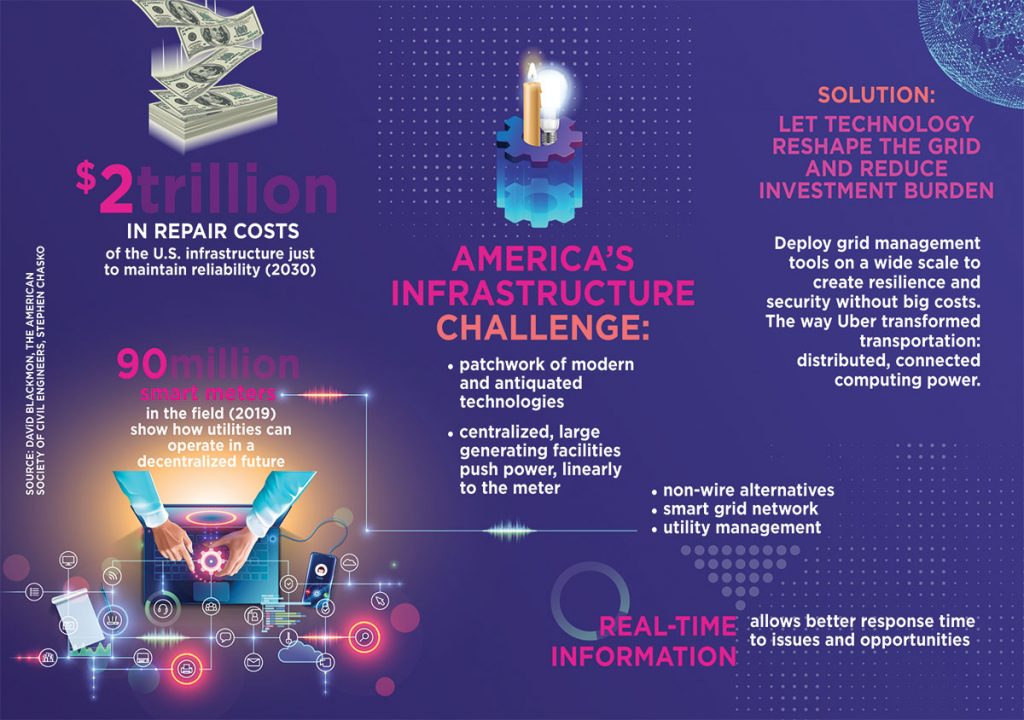 The era of repair
Repair and maintenance costs of the nation's aging utility infrastructure have risen. Unfortunately this has also meant that a decrease in spending on capital projects. According to a Brookings study, the U.S. is spending far more money to keep infrastructure systems working (water, electricity, gas) and much less on building new systems or making significant upgrades.
As this trend in spending on repairs versus new projects continues, its financial pressure   creates capital shortfalls in geographic areas also experiencing dwindling populations and shrinking economies.
And while state and local spending have declined over the past decade, they represents over three-quarters of all U.S. infrastructure spending—largely operations and maintenance. States and local government have increased operation and maintenance spending by $23.9 billion (+11.1 percent) and decreased their capital spending by $31.1 billion (-23.3 percent) over the last decade.
Importance of utility management
As governments at all levels work to strike a balance on infrastructure maintenance while managing its associated costs, apartment owners are best served protecting their investment from the impact of rising costs, tiered and other changing utility pricing structures, consumption caps and other methods of cost recovery by utility companies.
While policies, political posturing and public opinion evolve around conservation and sustainability, the impact of an aging infrastructure is as tangible as that of deferred maintenance on a property. It requires attention and funds to repair and maintain, and costs will be recovered, at least in part, from the consumer. This makes conservation as much a good business practice as it does a social responsibility.
The good news is that utility management has been around for decades. Commercial buildings of all types have perfected facility management, including benchmarking, and predicting and managing utility costs.
Technologies such as predictive analytics (to identify potential asset failures and accelerate repairs) and in situ underground pipe repair are effective ways to deliver customer service to residents, while managing utility costs, now and into the future.
Resident engagement efforts to increase conservation are also an impactful way to control expense and partner with residents to achieve sustainability goals. Management companies Greystar, The Bozzuto Companies, Alliance Residential Company and MAA are just a few of those who have set annual sustainability goals for their properties and companies.
A solid utility management program will not only contribute to a property's conservation, but save on expenses. Apartment operations also conserve through utility billing programs, submetering, expense and energy management, and utility benchmarking.
---
SOURCES: BROOKINGS; DELOTTE; ACEEE; EDISON ELECTRIC INST.
If you enjoyed this article, please consider sharing it!