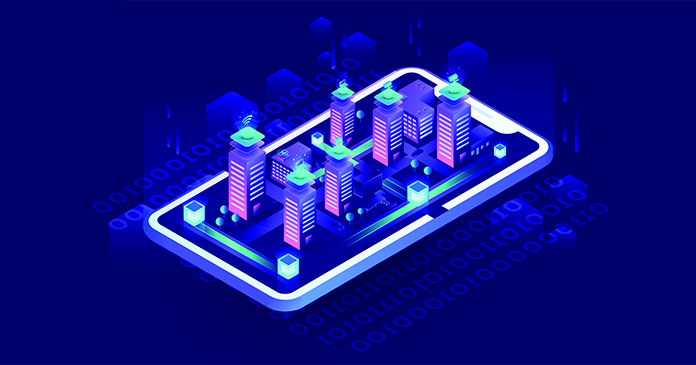 As IoT devices continue to gain traction with apartment residents, there is a new and growing expectation among renters.
The internet of things (IoT) is defined as an internet where everyday objects have network connectivity that allows them to send and receive data. Connected devices afford residents with lifestyle benefits and convenience, and make managing vacant units easier for managers. The data that connected things generate, directed toward analytic engines, also enable owners to derive valuable business insights. These perceptions can be used to reduce operating costs, increase security and give properties a competitive edge in their respective markets.
But which emerging smart technologies are suitable for multifamily, especially since the newest tech tends are also the most expensive?
Tim Haddon, director of strategic business services for PK Management, headquartered in Richmond Heights, Ohio, thinks keyless locks and remotely activated light switches and thermostats make sense because they provide benefits to both residents and owner-managers. But he's not a fan of spending hundreds of thousands of dollars on the next cool widget, knowing that as soon as the check for the tech is written, a new device will take its place­.
Marty Hollingsworth, CEO of managed WiFi and internet service provider Epproach, believes it's important for owners to develop a smart solution that provides a platform allowing a choice of different smart device manufacturers, makes, or models. Seamless integration of residents' own smart devices into the existing IoT infrastructure is also important.
Haddon agrees. "The resident can bring in their own Google Home or Amazon Echo as those are personal devices. Owners will need to provide the backbone—the internet connection—so that when the next cool thing comes out, the resident can add or update to the next device," he said.
Providing the needed infrastructure for IoT poses other challenges for multifamily operators who must invest to meet resident demand for high-speed internet and prepare for the connected needs of the future.
Finding the right architecture
IoT requires high-speed internet service that can't be provided by the traditional twisted-pair cable wire/coaxial lines or DSL that currently makes up 90 percent of the nation's telecommunication infrastructure.
New construction offers the best opportunity to plan and implement solid communications infrastructure, while existing communities are hamstrung by the type of wiring inside the buildings. But even older properties that weren't designed for today's internet needs can implement cutting-edge connections by upgrading to the latest wiring technologies, or fiber, during remodeling and a retrofit.
Haddon believes the best way to future-proof an apartment property and create a solid connection backbone is with an open conduit to each unit. "If you have an empty pipe that runs to every unit, you have a pathway. If a technology comes down the pike, you have a way of getting it to every resident," he said.
The more devices that are on a network at one time, the more bandwidth is required. Too many devices equals data overload. But an open conduit gives owners the ability to increase the bandwidth and speed needed to sufficiently operate more connected devices as they come online.
According to Hollingsworth, the key to success—for an IoT network especially—is more than bringing the wire to the property for an internet backhaul. It's being able to manage the delivery of service and its bandwidth in a secure streamlined fashion.
Developers can choose between a wireless or wired infrastructure. Haddon favors the latter. "Having started in IT in the late 1990s, I lived through the whole wireless launch. It's been said that wireless isn't truly wireless. There's a wire to backbone that takes you to the access point. It's just the last step—the step that touches the resident—that's wireless. But providing WiFi to every resident across an entire building is still complex because there is always going to be that pocket where they can't get the service. That pocket is going to get most of your attention," he said.
Owners also have a choice of Internet Service Providers (ISPs), from big box companies to full-service and managed service internet providers that specialize in fiber and WiFi integration for multifamily.
Big box ISPs, many with antiquated business models, wiring and poor customer service, still dominate a number of apartment communities. Haddon advocates partnering with smaller ISPs over big box incumbents that have bought their way into communities with revenue sharing promises and up-front door fees.
The evolving market of connectivity
While many residents prefer bundled communications and entertainment services that allow them a single point of contact versus multiple vendors, there is evidence that some, especially millennials, are opting out of structured video packages.
Last year, 22.2 million Americans cut the cable and satellite TV cord, according to data research firm eMarketer, that forecasts 30 percent will no longer have traditional pay TV by 2021.
While many residents are eliminating traditional cable, no one is going without internet. It has become a utility, almost like water or AC.
"Residents don't want someone else choosing their channels for them. Bulk internet packages are of little use when  they can get their own Netflix or Hulu," said Haddon.
"If an owner is looking for the best investment for the property, delivering the highest quality internet provides an on-demand amenity. In tandem and becoming nearly as valuable is a network to deploy a sophisticated multifamily IoT infrastructure," said Hollingsworth.
While price is always a concern regarding network infrastructure, owners have options on getting the best return on that network, he points out.
One owner-side solution is to use their bulk buying power, leverage the existing community network as an asset and then monetize that network infrastructure. This creates a profit center by offering supported services as an upgrade or tiered package to residents.
Haddon's thoughts about the multifamily industry: "We keep trying to treat apartments like single-family homes, but we really need to take our cue from the hotel industry. Each hotel room doesn't have an individual provider—there is only one provider for internet and video service and that simplifies that tech component. When we try and be everything to everyone—it gets complex." Haddon will speak on the subject at NAA's Apartmentalize conference in June.
Hollingsworth agrees that it is a best practice for property owners to have their own campus-wide network and provide their own internet services. "It means the ability to control the quality of service and deliver a better user experience for all residents, versus residents choosing whatever service happens to be available. A single, property-wide internet service can also deliver infrastructure that serves multiple purposes, such as staff or common-area networks for pool or clubhouse," he said.
This is especially important as IoT becomes a reality. From a practical standpoint, if each resident has their own internet connection, when he or she moves out, the internet would be switched off and connectivity to that unit, lost. The owner then has to reestablish connectivity or lose control over the unit's utilities and appliances.
There are concerns with providing campus-wide networks, such as how to manage those networks and effectively onboard new residents as they move in, or how to respond to technical issues.
Hollingsworth believes that the value proposition of any multifamily IoT provider with a WiFi onboarding platform is the ability to use that same platform for smart devices. This makes it both seamless and easy for property owners and residents.
Who owns the wires?
The question of who owns the building's wires remains in the spotlight.
The FCC has included a provision for property owners to take back ownership of their internal infrastructure once an ISP stops serving the subscriber. They must then abandon the wires to the property owner or remove them. The latter is costly to the point of being prohibitive.
But there's also an access upheaval taking place. About 20 states allow franchised ISPs to access multifamily residents over property owners' objections.
"Here's where the benefit of open conduit comes into play," said Haddon. "If your building has an existing provider and a new provider doesn't have a path into the unit, an open conduit or existing fiber or coax in the walls gives other providers a path to the subscriber."
If the existing provider already has exclusive use of the only existing wire in the building, there may not be a way to comply with allowing the new provider in. But San Francisco's Article 52, enacted last year, addresses that issue by allowing new providers to use existing inside wiring owned by the property owner, as long as the owner is compensated. A petition to preempt Article 52, filed by the Multifamily Broadband Council, is expected to be settled this summer.
"The passage of Article 52 is directly driven by Google attempting to make an individual mandate on competition. Competition isn't necessarily a bad thing. But the government telling owners what to do with their property gets a little sticky," said Haddon.
Looking to the future, the smart technology wave is only going to increase with automated flow sensors, water heater controls, and more.
Haddon's suggestion for creating that solid information backbone? "Run lots of fiber and multiple paths and own it so you can control it."
Hollingsworth notes that with 5G cellular networks around the corner, "Owning your own network allows you to take advantage of even faster WiFi networks that will ultimately merge with cellular services. In dozens of different ways, it truly future-proofs your property."
If you enjoyed this article, please consider sharing it!