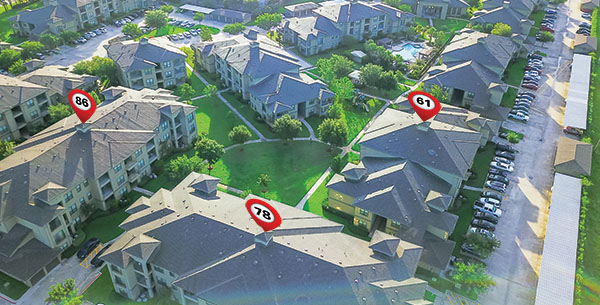 Energy Star began identifying energy efficient computers and printers in 1995, and the rest is history. Today, it has rated thousands of apartment properties across the country through its Portfolio Manager benchmarking tool, most recently adding waste to its lineup. Most importantly, it's fast becoming the catalyst for local legislatures to mandate benchmarking to drive energy efficiency. EPA's goal, with its average 30 percent savings on the utility bills of apartments utilizing Portfolio Manager: save over $9 billion annually across multifamily housing by 2020.
Energy Star for multifamily, a history
In 1999, Environmental Protection Agency (EPA) created an Energy Star program for buildings. It followed the popular Energy Star rating system that it had created earlier for appliances. To support the building program, EPA developed a free on-line tool called Energy Star Portfolio Manager. Portfolio Manager can be used to evaluate buildings which fall into EPA-defined building classes. It produces a score between 1 and 100 in assessing how efficiently the subject building utilizes energy when compared to other buildings in its class.
The rating provided by Energy Star Portfolio Manager is based on the Commercial Buildings Energy Consumption Survey, which is done every 4 years by the Department of Energy.
Since a building's score is based on how well it performs compared to other buildings of the same class, as the performance of buildings improves generally, the rating for a given building may drop over time, even if it is using no more energy than before. Therefore, a building owner must continually seek energy efficiency improvements in order to maintain the building's rating.
Initially, use of the Portfolio Manager tool to assess a building's energy efficiency was voluntary. Building owners would choose to assess their buildings for a variety of reasons, such as their desire to save money on energy expenses or to be able to market their building as green in order to appeal to environmentally-conscious residents.
Later, incentives were devised to encourage building owners to assess the energy efficiency of their buildings. For example, both Fannie Mae and Freddie Mac offer preferential loan terms in order to encourage energy conservation. Fannie Mae specifically cites EPA's Energy Star Multifamily certification as being a green building certification which would qualify the building owner for a lower interest rate on their loan.
Not satisfied with the pace of assessing all commercial buildings for energy efficiency, some municipalities moved to make assessment mandatory. They were encouraged by interest groups such as the City Energy Project, a joint initiative of the Natural Resources Defense Council and the Institute for Market Transformation.
Multifamily properties were sometimes exempt from commercial building reporting mandates since, for properties with sub-meters, data on the total energy and water usage was not available to the building's owners. Sharing resident utility data with owners was considered a violation of the residents' privacy rights. Laws were rewritten allowing utility companies to provide aggregated usage data to the building owners in order to enter it into Portfolio Manager.
Today, a number of cities and some states require that multifamily properties above a certain size report their energy and water usage data through Energy Star Portfolio Manager. Annual filing dates begin as early as April 1.
The nuts and bolts of rating
To be eligible to receive an Energy Star rating, a multifamily property must meet certain criteria. It must have 2 or more units per building, and 20 or more units on the property. The property's occupancy must also be more than 75 percent.
Energy Star classifies multifamily buildings as being low-rise (1-4 stories), mid-rise (5-9 stories) and high rise (10 or more stories). If a building has different wings which fall into different height classifications, the number of units in each height classification is counted separately.
The data that must be entered into Portfolio Manager in order to obtain an Energy Star rating for a commercial building includes the property name and address, its gross floor area and irrigated area, the year it was built and its occupancy percentage. The total number of residential living units, and the number of residential living units in each of the three building height categories must also be submitted. The total number of bedrooms on the property is also required.
Optional information that may also be entered includes the resident population type (student, military, senior, etc.), whether the property is government subsidized, the number of laundry hookups in all units, the number of laundry hookups in common areas, the percent of the property that can be heated and the percent of the property that can be cooled. It is possible that information that is optional today may become mandatory tomorrow, so building owners should consider providing it.
Energy and water usage must be provided from twelve consecutive complete months of energy and water bills. The information must cover the "whole building" usage, which includes consumption of both common areas and that of all of the residents. The meter name or ID must be included.
While the task of entering all of your property's data into the Energy Star Portfolio Manager can seem daunting, EPA has designated companies as Energy Star Service and Product Provider (SPP) partners to assist building owners in this process. They may help the owner enter the building survey data, enter and verify the utility data and generate property performance reports. RealPage of Richardson, Texas, was the first to partner with EPA as a SPP (through its acquisition of NWP). Since then, RealPage has helped thousands of multifamily properties meet its benchmarking requirements.
The process can take from two weeks to two months. Building owners need to determine the mandatory reporting date for their jurisdiction and take this lead time into consideration when planning how to comply.
If you enjoyed this article, please consider sharing it!