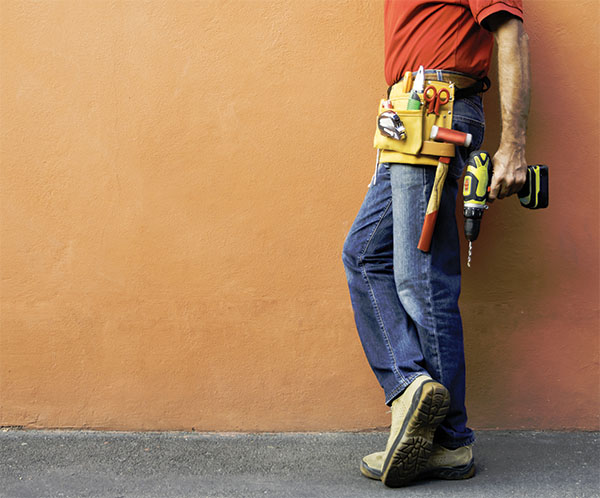 The architect may design it. The builder may build it.  The manager may even lease it. But no one knows about the physical performance of a property—inside and out—like the maintenance team. In fact, a recent study found that maintenance techs (or facilities managers) have direct or indirect impact on 82 percent of the points related to Leadership in Energy and Environmental Design(LEED) certifications. Now that's power.
This story begins with energy. Apartment buildings, along with other built environments, use over 75 percent of all electricity produced in the U.S. These same buildings generate nearly half of the country's CO2 emissions through lighting, pumping, heating, cooling and other operational needs.
New construction techniques improve building performance, but over 90 percent of the U.S. housing stock was built before 1990. Nearly a fifth of that was built in the 1970s. Construction circa-70s, as it turns out, is a legacy that conservationists would rather forget but for the millions of units it has left in its wake. It has proven the worst energy performing construction of all time according to data coming in from NYC's mandated benchmarking.
Even with retrofits, building owners and operators have an uphill climb in achieving their energy reduction and conservation targets, as well as simply maintaining the property. What are we missing here?
Facilities operators—typically the maintenance team in apartments—are the ultimate drivers in the campaign to keep the community running, and now, to meet energy use reduction standards.
No pressure, but the value of energy efficiency is rising by the day. From green loan discounts to the social impact sought by residents, to the fluctuation of energy costs, there is a direct and immediate line of sight to financial pay-offs. This tension will continue to shine a light on results.
All the performance calculations in the world come down to operation
"Include your maintenance team early and often," said Paul Rhodes, National Apartment Association National Safety and Maintenance Instructor. Rhodes will speak at the RealPage Energy Summit in April, 2018. His message: Get maintenance teams on board with conservation projects.
Rhodes has long understood the direct impact of site teams on building performance. "Too often, maintenance teams are an afterthought to energy and facility performance," he said. "In fact, they are the front line in the on-going condition of the asset, as well as its performance—including energy."
Agencies setting the national standards for green building performance agree with Rhodes: "Maintenance teams play a crucial role in implementing these strategies in order to achieve certification," states the Well Building Standard (WELL). LEED and WELL continue to update their standards requiring greater knowledge and skill levels on the part of apartment maintenance teams.
While the roles and responsibilities of maintenance teams vary greatly by organization, it remains the primary responsibility of these teams to maintain safe, efficient and healthy-built environments.
In 2013, LEED raised requirements for building performance around energy and water. Site personnel are at the center of the new standards that cover everything from safe cleaning practices to proper maintenance to upkeep of toilets, sprinkler heads and more.
The drive to improve energy efficiency will only intensify. Maintenance crews must continue their education on building systems with an eye to what building owners expect in the way of building performance. At the same time, building owners should consider the full consequences of their maintenance protocols.
Staff incentives, meant to help, can actually deconstruct conservation, rewarding methods that are at odds with asset performance and efficiency. For example, bonuses tied to lowering spending can steer site staff to use less expensive, replacement parts to make repairs that offer less efficient performance. Another example occurs when communities are understaffed and time is at a premium. Many efficiency retrofits are not simple installation. If calibration, fine-tuning or resident training is required for the full operational value of the upgrade, the extra time needed may be lost in the effort to cut install time.
Even with the perfect alignment of incentives, product and installation, maintenance programs, said Rhodes, "Goals around efficiency are often lost over time. It takes constant follow up. Those on the front line of the asset often have the greatest power to move the needle."
---
Reference: cmu.edu/gdi/docs/cost-effectiveness.pdf, An Overview of Building Stock by Lawrence Berkeley National Laboratory, LEED standards, WELL standards.
If you enjoyed this article, please consider sharing it!