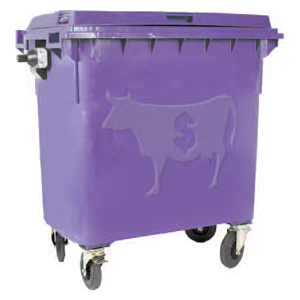 I'm first. I'm first. That's my nanny-nanny- boo-boo prophetic warning to all y'all outside California. And, yes, you might want to throw my Birkenstocks and granola in the trash, but you best take a better look at what you are putting in that dumpster. Trust me; this is not some Charlie Sheen style "winning."
I took the first recycling bullet with California's new recycling law, affectionately known by the locals as AB 341 (the California 2011-2012 legislature's Assembly Bill number 341 that supercharged AB 939).
I take my AB 341, super-seriously. It requires that multifamily dwellings with 5 apartment units or more maintain recycling ratios, versus waste, of 75 percent recycled material and 25 percent waste.
I am incentivized to do so. Although I want to talk about the money because that's my favorite part, let's begin by understanding how my trash is measured. The trash provider takes the size and number of my dumpsters, multiplied by the number of trash pick-ups, plus the size and number of recycling containers, times the number of pick-ups. This formula goes something like: (# of trash dumpsters x dumps) + (# of recycling dumpsters x dumps) = waste for site
The percentage of recycling versus trash in the community is then evaluated to determine compliance. If I am compliant, I get the good stuff: lower costs, better planet, happy residents who feel good about their community's recycling program—a triple bottom line.
In the land of fruits and nuts, a.k.a. California, recycling costs are lower (sometimes substantially) than our regular waste pick-ups. In some of my markets, recycling pick-ups are free. I can empty green bins 7-days-a-week and my trash provider does not charge a dime.
Trash dumpster pick-ups is where my costs lie. Have you ever looked at your trash bill to compare dumpster cost pick-up, versus recycling container of said? I recommend it. In fact, you will probably find that invoice more thrilling than a Disneyland "E" ticket ride.
AB 341 provides an added layer of "you gotta;" it gives cities authority to charge penalties to owners whose trash-versus-recycling percentages are uncompliant. Such penalties are already surfacing on owners' bills. (Unless you look carefully, you may not even know that you are that person with the toilet paper stuck to your shoe.)
The ripples of this legislation are many. AB 341 completely shifts how property owners are billed for trash in some markets.
Cities charging minimums for pick-ups on a multifamily property must change the way they bill residents.
Many cities, like Mountain View, California, consider the number of units at a property and develop a monthly baseline to charge per number of trash pick-ups. Pickups exceeding this established number are charged accordingly.
It's similar to an electric bill where a household establishes a minimum baseline on use. Every kilowatt over that baseline graduates users into a higher, more expensive, tier of electricity. Trash in California now works the same way. Minimums violate AB 341 when they are in conflict with the trash-to-recycling ratios we're required to keep. Simply put, in Mountain View it currently doesn't matter if I reduce trash-pickups by increasing my recycling volume because my bill won't change. As managers realize that trash minimums are not in harmony with the grape state's legislation, it's likely these minimums will change or be dissolved.
This legislation will also change how we design and construct future multifamily projects. We will likely start looking at larger, centralized trash enclosures that allow for robust recycling in lieu of a plethora of tiny enclosures not big enough to sustain the correct percentage of trash and recycling containers. It may even change how we design the kitchens in our units to create spaces that promote trash, recycling and related sorting in the home, where such handling starts.
The new law will impact how we communicate with residents. How many times have you stopped residents to ask, are there bottles or cans in that bag of trash you are lobbing into our dumpster? Although, residents will tell us that they want composting and more robust recycling, the truth is that such facilities are not very convenient.
We know that if it's not easy, few residents will sort their stuff. And in addition to causing us to more carefully watch what goes into our bins, this bill is going to change how we monitor what comes out. Some people are dumpster divers who like to pull the good stuff out of our recycling bins for personal profit; we need that volume of recycling and every bit counts.
I believe that what is happening in California with trash legislation isn't going to stay isolated on the left coast.
My trash law is likely coming your way. For now, those with properties in California just might want to look at my Birkenstocks and granola as they sit in your dumpster, costing you more money, and consider if any of my stuff is recyclable or compostable, and redistribute your waste. You may not like it but you'll thank me later.

Author Mary Nitschke is passionate about utilities, and should, perhaps, switch to decaf. She is the first president of the Utility Management Advisory Board, holds an Energy Resource Management Certificate from UC Davis, two BAs from UC Berkeley and is director of ancillary services for Prometheus Real Estate Group, Inc.
If you enjoyed this article, please consider sharing it!