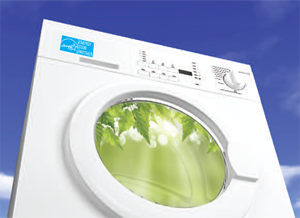 The Energy Protection Agency (EPA) has over 65 product categories, but noticeably absent was clothes dryers. As the second-largest energy-users of a residence, the market was hung out to dry on hopes for efficiency, until now.
The EPA has published standards for lighting, heating, cooling, home envelope, office equipment, commercial food service, appliances, and home electronics to name a few.
"Pretty much all conventional clothes dryers require the same, hefty amount of energy—they're the second greatest energy users in the home behind the fridge—to operate. The technology for a less-consuming dryer simply doesn't exist," says Matt Hickman of the Mother Nature Network.
The EPA hopes to change that. Recognizing the void and wanting to use the market power of their brand to nudge manufacturers, the EPA is currently working on a standard for clothes dryers.
"Considering that dryers account for roughly six percent of residential electricity, this attention to efficiency is good news for consumers, even if the benefits are not immediate," states Consumer Reports. Demand for electric dryer efficiency could be significant given they have a typical power draw of 5kw during the drying cycle.
Goals for dryer standards
Proposed qualifications are a minimum of 13 percent reduction in energy consumption for electric dryers, and 10 percent reduction for gas. The existing 2015 Department of Energy (DOE) product standards are used as the baseline. But EPA's assumptions on normal usage could be too conservative.
Based on a study by Ecova for the Natural Resources Defense Council in 2011, real-world usage savings are likely 35 percent higher than the government's test scenario. If new equipment provides a 30 percent energy savings for electric dryers and 20 percent for gas, it would offer "annual savings that range from $21 (electric) to $6 (gas), which provides lifetime savings of $95 to $342," according to the EPA (assumes $0.1089/kilowatt-hour electricity price, $10.50/BTU natural gas price, 283 cycles per year, useful life of 16 years).
Based on conversations with stakeholders, the EPA is estimating the price premium for electric dryers with the energy saving features at $50. This puts the payback period at less than 3 years.
Chances are, to qualify for the Energy Star label, machines will need to include automatic shut-off and minimum warranty features. Smart grid compatibility is encouraged but optional, at least on the initial version of the standard. (Smart grid is a class of technology whereby computer-based automation is used to calibrate energy demand against availability.)
The EPA proposes that dryers be equipped with an automatic shut-off using both moisture and temperature-sensing controls. While most dryers on the market include temperature-sensing technology, less than 25 percent are moisture-sensing.
"Manufacturers and Consumer Reports have indicated that moisture-sensing does a better job at sensing when a load is dry than temperature sensing," says the EPA. The EPA also seeks to phase out timed-drying as it can lead to wasted energy and greater wear and tear on clothing by over-drying.
Also. the EPA's guidance is that minimum warranties increase consumer confidence in new technology. So they are proposing minimum 3-year-parts warranty for control boards (microprocessors), and 5-year-parts warranty on sealed systems.
Looking ahead
Smart appliances, connected to the smart grid, are encouraged, but optional on the first version of the Energy Star clothes dryer standard. EPA is highly interested in supporting smart grid technology, and plans to encourage manufacturers to integrate this technology into this, and other product categories, going forward.
The EPA is developing criteria first for refrigeration, and will then parlay that work into other categories such as laundry.
"Connected functionality can also deliver near-term convenience and energy-saving features, e.g., enhanced energy awareness, product level energy consumption, messages and alerts relevant to the product's energy consumption, and remote management capability," according to the agency.
Commercial clothes dryers will be excluded from version 1, due to lack of efficiency data. This is unfortunate news for multifamily owners with common area laundry rooms. But for owners who provide inunit laundry equipment, the new standard will make a near-term impact.

Author Kent McDonald helps property managers control their utility costs. Previously, he was with Aimco as VP of ancillary services.
References: Energy Star is a certification program by the U.S. Energy Protection Agency (EPA) established to rate appliances, materials and environments for greenhouse emissions impact. Find more at energy.gov.
If you enjoyed this article, please consider sharing it!