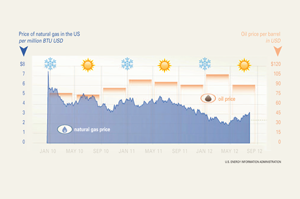 What's up with natural gas prices? Anyone who reads or watches TV probably knows about hydraulic fracturing, or fracking. But this is not about fracking.
It is, however, about its benefits. Top on the list: an abundant supply of clean-burning natural gas. If you are a consumer of natural gas, either for home or business, when did you last check the price you are paying for this necessary commodity?
Historical precedent
Natural gas prices are on the rise after remaining low over the past 3 years. At press time, the price hovered at $3.97-per-million-btus, almost double year-over-year, but much lower than the all-time-high of $15-per-million-btu's back in 2005, which launched the fracking industry.
While the recent increase was due to a cold northern winter and depletion of the U.S. energy reserves to much lower levels, the price should come back down this summer. Don't quote me. I am not a commodities trader, just a property management executive. I rely on the much-smarter people at NWP who specialize in the purchase of electricity and gas for business.
Which leads me to being smart about purchasing natural gas for heating and hot water for multifamily communities. My natural gas provider in Texas is CenterPoint. This is not an ad for them, but it was they who presented me with a method of purchasing natural gas 4 years ago when its price was through the roof.
About 30 percent of my Texas properties have domestic hot water boilers. Center-Point provided transmitters that attached to the existing gas meters, leaving the properties to simply add an Internet connection. These are similar to the smart meter that electric providers install across the nation.
The new technology meant that my gas provider could monitor consumption by time-of-use, and make an informed purchase of natural gas based on a analytical calculation of what the property would need for the next day. The CenterPoint program is called the Commodity Price Index.
We purchase our natural gas on a baseline agreement allowing us to manage costs in a most calibrated way. This method allows us to group multiple locations into a single price, or hedging strategy, and receive a single convergent monthly invoice including all my locations on one bill.
While natural gas prices have remained low, this purchasing procedure has allowed our company to save between 20 and 30 percent on our natural gas. The longer the term you lock in your commodity pricing, then higher the rate.
Our baseline agreement with Center-Point has a monthly cap so we are protected from the large increases of seasonal influences affecting the market.
Most natural gas providers should be able to provide this service to your properties If your properties' utilities are provisioned by a city municipality, they may not have adopted this technology. And some gas providers may not be as willing to provide this service as in North Texas, where we're serviced by Atmos Energy. But the technology is there. It's best to inquire.

Author Mark Copeland heads management operations of Atlas Residential based in Addison, Texas. Atlas with 3,500 units.
Sources: Wall Street Journal 3/26/13, Barrons 3/21/13, Monthly Price Lock, Commodity Price Index are products of CenterPoint Energy Services Inc.
If you enjoyed this article, please consider sharing it!