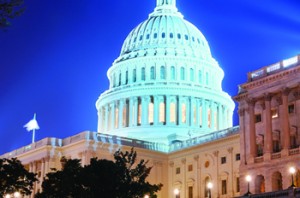 As apartment owners and operators, it's hard not to notice the regulatory environment changing with regard to sustainability and energy management. Knowing where to find good information on these changes, as well as those who hold the apartment industry's best interest as a priority, is critical to staying aligned with on-going changes.
The National Multi Housing Council (NMHC), and the National Apartment Association (NAA) are gearing up to proactively advocate on such legislative and regulatory matters.
According to Eileen Lee, NMHC VP of Energy and Environmental Policy, the NMHC is in the early stages of assembling a sustainability subcommittee, but has already selected leaders for the effort.
Louis Schotsky, of EQR, is chairman of the NMHC subcommittee, and Martin Sprang of AIMCO is vice chairman. The membership roster is building, but the subcommittee will soon meet to develop a formal mission statement and goals.
NMHC has created a green practices portal to promote industry best practices for energy conservation and sustainable development. The hope is that this online resource will provide valuable input to help policymakers craft effective and achievable energy efficiency goals. Find information about the NMHC's sustainability efforts and upcoming meetings at www.nmhc.org.
NAA has also launched a green website and resource center. In line with their mission to promote professionalism and provide educational tools for the industry, the NAA seeks to take a leadership role in the green effort. They seek to prepare members and local affiliates for the widespread acceptance of sustainable buildings, and create green education programs to promote cost-effective, energy-efficient practices.
As part of the NAA's effort to promote awareness, they have formed the NAA Green Task Force. Led by NAA Board member Scott Wilkerson of Gingko Residential, the task force held their latest meeting at the NAA Capitol Conference in Washington, DC in March, 2012.
The group is planning a green conference for April, 2013.
The task force will focus on the economics of going green. They seek to collect case studies of real-world green programs that are both successful, and profitable.
Wilkerson sees a pent-up demand from residents to lower their cost of ownership. "Because their utility bills will be lower their apartment will be more comfortable, and their indoor air quality will be better. I think our residents will stay longer."
More about the NAA Green Task Force, and the NAA's latest initiatives in green education, regulatory affairs, and resources for sustainable community operations is available at www.naahq.org/green.
Author Tom Spangler works with multifamily companies to better manage their ancillary income and utility reimbursement programs. He helps manage their utility expenses, including energy conservation programs, commodity purchasing and utility payment processing. Spangler was with UDR, Inc. for twelve years, the last of his tenure as SVP of Business Development, and Chief Risk Officer. Spangler holds a BS in chemical engineering from Virginia Tech and MBA from the University of Virginia. He currently works with Greystar.
If you enjoyed this article, please consider sharing it!