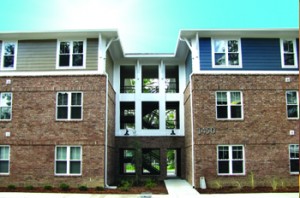 Row after row of solar panels sat soaking up the sun on the roof of the senior residence at Sustainable Fellwood.
At 85 kilowatts, the system is among the largest residential systems in Georgia. It powers the common areas of the residence and the street lights around the building.
"It's generating twice as much as we use," said Curry Wadsworth, president of Parallel Housing, one of the developers of Sustainable Fellwood.
That's about $1,500 worth of electricity a month the panels have been generating since they began operating in December.
The second and third phases of the mixed-use, mixed-income Sustainable Fellwood were dedicated in May.
The $500,000 solar panels came relatively late in the project, made more affordable by a $450,000 stimulus grant. Even without the grant and tax credi­t, though Wadsworth said the solar array made sense.
"In the life of the building it will certainly pay for itself a couple of times," he said.
Along with the solar array, more than 50 apartments and the community center in phase II of the project were built to be solar-ready with conduits placed inside the walls during construction. If solar panels are added to those buildings it will be a snap to connect the apartments to that supply, said Jack Star, a local solar advocate who pushed for the wiring through his group Solar Champions. And the idea is spreading.
"Because it was done here all Savannah Gardens is being built solar-ready as part of the specifications," Star said.
Sustainable Fellwood boasts walkability and bike friendliness, and an organic garden, as well as homes that are 30 percent more energy efficient than conventional ones. The first two phases have received prestigious gold LEED ratings. The third phase is on track to go even higher with a platinum LEED rating, vaulted there in part by the solar panels.
Denise Grabowski, past president of the Savannah Chapter of the U.S. Green Building Conference, calls Sustainable Fellwood her favorite project. Green buildings like these are more economically sustainable, she said.
"The first cost of a building, what you'd call the sticker cost, is only 5 to 15 percent of the lifetime cost," she said. "This looks to offset the other 85 to 95 percent of the cost so you can truly appreciate the benefit of green building."
Source: Mary Landers, savannahnow.com
If you enjoyed this article, please consider sharing it!