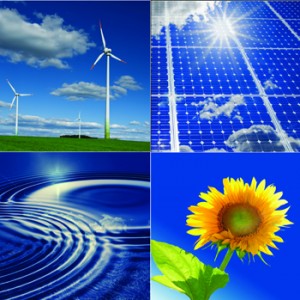 Risk comes in different forms, and there are times when business as usual becomes risk itself. America's electric utilities are approaching just such a moment.
Across the country, a generation of power plants and transmission systems is aging and needs to be replaced. At the same time, rules on pollution and greenhouse gas emissions are tightening. Clean energy technologies are getting cheaper and gaining market share. These shifts coincide with record spending: Utilities are expected to make $2 trillion in capital investments over the next 20 years—about double their recent spending rate.
How to move forward in this complex, risky environment? That's the subject of a new report from Ceres, Practicing Risk-Aware Electricity Regulation: What Every State Regulator Needs to Know.
The industry experts who wrote the report analyzed a range of investment decisions utilities could make over the next two decades—decisions that will determine which utilities prosper and how their shareholders, ratepayers, and the wider society will be affected. The economic as well as environmental stakes are high.
Just ask Progress Energy. In 2009, the utility began collecting money from its Florida customers to build a new nuclear power plant for 2016 at an expected cost of $4-6 billion. The company's latest estimates: $24 billion to build the plant for 2024. That's a huge bill to saddle customers with, especially given cheaper and less risky alternatives.
Avoiding such outcomes is exactly the subject of this report. Building big nuclear or fossil-fueled power plants is getting riskier and more expensive, and it's no longer the default. For regulators, playing by yesterday's rules won't work. That's why the report calls for regulators to take a "risk-aware" approach to deciding what utility investments most benefit society while earning a fair return for utility shareholders.
Using comprehensive analysis, the report authors rank power sources by cost and risk. Nuclear power, for example, ranks roughly in the middle of the pack on cost (or at least it did before last year's disaster in Fukushima, Japan). But it is far and away the most exposed to risk, which is why new nuclear plants (such as the one Progress Energy is planning in Florida) can cost five times initial estimates. Beyond cost overruns and delays, the nuclear industry's ongoing waste disposal problem and the effect of accidents like Fukushima cannot be ignored.
The report also finds coal-fired power plants to be among the riskiest options, with natural gas-fired plants not far behind. And significant questions remain about carbon capture and storage (CCS) technology, which coal and gas-fired plants will require under a future carbon policy. The liability that attaches to long-term maintenance and storage of stored carbon could represent a serious material risk.
The good news is that there's a far less risky, less expensive option than nuclear or fossil-fueled power plants: energy efficiency. With increased efficiency, risks like construction delays, fuel price hikes and pollution control costs aren't an issue. The cheapest power plant is one a utility doesn't have to build.
But investment in energy efficiency will require regulatory adjustments. As long as utilities make money solely from the power they sell—and not by helping ratepayers use less energy—efficiency will be relegated to the sidelines.
Other low-risk and low-cost options identified in the report include renewable resources like wind, geothermal and biomass. In general, renewables come out ahead.
The report amounts to a strong call for state utility regulators to be more engaged and forward-looking in approving utility investments. Just like diversifying an investment portfolio, diversifying energy sources to include efficiency and renewables, fossil and non-fossil generation, and a mix of supply and demand-side strategies is key for utilities and those that depend on them.
For an industry facing sweeping new forces and major transformative change, the real risk lies in building the next generation's infrastructure using yesterday's technologies and business models.
Source: Mindy Lubber, president of Ceres and director of Investor Network on Climate Risk
If you enjoyed this article, please consider sharing it!