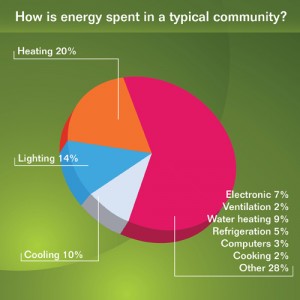 What does going "green" mean anyway?" Is it only about conserving natural resources? Or is it about reducing our carbon footprint—whatever that is? It usually encompasses those and more, but from a business perspective the question is: What green concepts do I need to embrace that will benefit my residents, my bottom line, and our environment?
Energy and utility conservation is the most tangible green concept, and the most likely to contribute financially to the organization. When a business conserves energy they are reducing a significant cost, (which usually rises every year) along with reducing demand for our finite, natural resources.
Energy conservation can be achieved by reducing the amount of energy (measured in kilowatt hours, therms and BTUs) expended in heating, cooling, and ventilating the building; illuminating the building (interior and exterior lighting); heating domestic/ potable water; powering appliances and equipment (including pool and spa pumps and heaters). The air-tightness of the building envelope (insulation, windows, doors, roof) contributes to the amount of energy usage. Another usage factor to incorporate is behavioral—how the on-site staff operates and maintains the community, and how residents utilize controllable energy drivers (including thermostat control, hot water usage, plug load, etc.)
The question becomes: Which of these areas are currently performing at optimal efficiency levels and in which of these areas can I achieve greater savings? An energy assessment can provide those answers.
Energy assessment defined
Community energy assessments, commonly referred to as energy audits, are a comprehensive, diagnostic-based evaluations of the buildings, systems, equipment and energy consumption at a multifamily community. The primary objective of performing the community assessment is to identify specific modifications that will reduce cost by improving energy usage and efficiency.
Upon completion, an Energy Manage-ment Plan details recommended modifications called Energy Conservation Measures (ECMs), in an report that includes financial data such as cost, rebates, savings, pay back periods and return on investment.
The Energy Management Plan becomes the owner's or operator's community-specific, comprehensive, strategic energy conservation action plan to save energy and cost ensuring the foundation for achieving an increase in net operating income and asset value. Energy management plans also help identify ongoing ways to significantly reduce energy consumption from energy using systems and components, operations and controls, preventive maintenance, and resident behavior.
A building's life cycle
New construction of multifamily buildings provides ongoing energy saving opportunities from the beginning. Such buildings may be designed and built to earn the ENERGY STAR or other green building designations.
Energy efficiency elements are incorporated into the design and verified throughout construction to meet high-performance standards. Studies demonstrate that such buildings use fewer resources, have a smaller environmental footprint, and provide people with a better atmosphere. High-efficiency buildings tend to have higher occupancy rates, command higher rents, and retain value, or appreciate faster, than comparable structures in the same market.
An article from Business Week, Nov 12, 2009, entitled, "ENERGY STAR Rating adds $5M per Building," cites The Berkeley Program on Housing and Urban Policy. The document suggests that tenants and investors are willing to pay more for an energy efficient building, and that rental rates are 3.5 percent higher per square foot with an Energy Star building versus non (6 percent higher effective rents), and sales prices are 16 percent higher.
Another report by Ceres and Mercer in the same article, indicates that, "companies who fail to factor energy efficiency into their real estate investment decisions might be assuming significant risk in the future and could be overlooking substantial opportunities to enhance returns," and that operations and maintenance practices are critical to realizing ongoing energy savings opportunities.

The process
Energy Assessments are three tiered as identified by the American Society of Heating, Refrigeration and Air Conditioning Engineers (ASHRAE): Level I Walk-Through Assessment, Level II Energy Survey and Analysis, and Level III Detailed Analysis of Capital Intensive Modifications.
The most common level for potential savings, while balancing initial capital expenditures, is Level II. This audit assesses the potential energy savings and initial cost of said strategies through the building survey, energy analysis, and selected system performance testing. It breaks down how energy is used in the building, as well as a broader range of savings options, including simple capital investments.
Energy audits include utility data analysis, on-site inspections, consumption monitoring, energy modeling and energy conservation improvement planning.
Anatomy of an energy assessment; the focus of the audit: The first step of the audit comprises data collection and information gathering interviews. The information typically requested includes: utility consumption data (electric, gas/fuel, water, waste); building drawings (as-built); operation and maintenance manuals for large energy and water systems and equipment.
Step two encompasses site visits for further data collection on the current energy consumption and characteristics of: lighting, HVAC systems, water heating, pool/spa, building envelope, large energy and water using systems and equipment; operations and maintenance behavior and usage patterns; meters and key consumption data collection points.
Infrared thermal imaging and selected performance testing may be used. Site assessment is critical to getting a complete picture of the property's true energy use due to the dynamic interaction of building components and systems, operations and maintenance procedures, and end user/occupant behavior.
The final step in creating an Energy Management Plan incorporates thermal energy modeling and simulation of the property for dynamic analysis and impact of specific energy and water use, including an energy end use analysis. A baseline scenario is then created, along with a model building, against selected energy conservation measures that can be applied in order to obtain the maximum energy performance.
The final report includes: energy conservation measures (ECM) with expected savings outcomes; financial savings of each ECM and relative contribution to financial performance goals, Net Operating Income advantage of the property including amount of investment, rate of return and life cycle costs; rebate procurement for any investments or work completed.
The report will include specific recommendations for: lighting retrofits; HVAC audit and upgrades; controls and control systems; high-efficiency pumps, motors and variable drives, if applicable; water conservation measures; building envelope thermography; operational changes in processes, if applicable; compressed air systems; steam systems (periodic maintenance, steam trap maintenance and piping insulation), if applicable.
Energy Management Reports can be phased, and according to a continual improvement method. This typically includes implementing no- and low-cost energy efficiency immediately, and then using those savings to help pay for larger investments. The ideal is to fully optimize efficiencies and eventually incorporate renewable energy sources into the community portfolio of assets.
The result
An Energy Management Plan will provide specific actions to achieve cost and energy savings. The financial analysis of the recommended energy conservation measures provide estimated costs associated with achieving the performance target and projected savings. Financial details can include possible sources of funding, rebates, and tax credits/deductions.
Studies support that an investment in energy efficiency on a property can be a solid investment, with a discernible return for your property. A 2008 Vanguard Group study determined that investing in energy efficiency in your multifamily operation has the highest return, and lowest risk, compared to most investment alternatives.
Other facts to consider: Energy efficient improvements save energy throughout the product's useful lifetime. The long life of modern energy efficient equipment typically results in savings that are many times the investment cost. It is not uncommon to see Savings to Investment Ratio's of 20+.
Many low cost energy efficiency improvements, like increased insulation or energy- saving occupant behavior, result in immediate energy savings and have almost infinite lifetimes.
The return on energy efficiency increases as the price of energy escalates.
Market differentiation
Not only can multifamily communities emphasize green in their marketing, they can tout low utility bills to the prospective renter, a real differentiator.
Another cutting-edge trend for builders of new construction is to publish an "MPG" (miles per gallon) label that provides (with all necessary disclaimers) an estimated monthly utility cost for each type of residence so consumers can have a realistic idea of the bill amount before they commit. This information can quantitatively show a score on how your apartments compare against various standards, and can be an effective sales tool.
On-site energy use assessment is only the first step in the correction of energy waste. Create long-term value with the creation of an energy team and energy policy. Consider including resident education and incentive programs, combined with a long-term program of costs and consumption monitoring and benchmarking, and a commitment to the implementation of the Energy Management Plan of energy conservation measures as the financial plan permits.
In light of growing energy use mandates and expanding regulation to achieve energy efficiency, consider the impact on your multifamily operation and the results of an energy assessment: consumption and cost savings, pass through value to your residents, and marketing and business recognition which promotes good-will.
If you enjoyed this article, please consider sharing it!