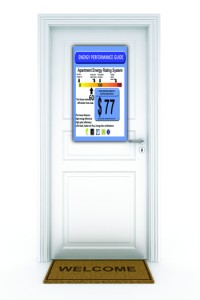 Why haven't we developed and adopted a rating system for measuring utility performance within the multifamily industry?
After all, we already evaluate our communities comparing metrics such as occupancy rates and rents.
ENERGY STAR has done an excellent job of creating rating systems for building types including the obvious commercial and data centers, hospitals and supermarkets, as well as those not so obvious as dormitories and houses of worship.
Is it the complexity of multifamily product and market? If rating systems can be created for dorms and hotels, what is the delay?
Last month, the Environmental Protection Agency (EPA) announced a new program that affects high rise multifamily properties that are either new or substantially rehabilitated. The designation, however, appears to be tied to building standards versus actual energy performance. This approach is different from the traditional rating system which is based on relative efficiency versus similar properties.
Does multifamily want a formal rating system? It depends on who you ask. In researching this topic I received scores of conflicting opinions.
On one extreme, an ancillary income manager from a REIT was certain that the adoption of such a system for multifamily would be a waste of time, providing "zero value." The argument is that owners should make "green choices" for their own benefit; to lower operating expense and attract green-minded residents ultimately increasing operating income.
But I also heard the other side of this argument. Multifamily owners and operators need a formal rating system, but maybe not for the reasons you think.
Over the past years, utility cost and consumption benchmarking and disclosure requirements have gained traction in Seattle, New York, and Austin, to name a few cities. Regulations and mandates that used to only affect commercial properties are rapidly moving into multifamily. Many of said regulations simply require tracking and subsequent disclosure of utility performance to the government and public. But what is the benefit of disclosing performance if your resident, or prospective resident, can't discern how the property compares to surrounding communities?
The Seattle ordinance (CB 116731) calls for a 20 percent reduction in electricity by 2020. But what if the owner or property management team already "squeezed the juice from that fruit" so to speak, and the property is already extremely energy efficient? Or is 20 percent enough for another property that has done nothing to lower consumption?
The intent behind this ordinance is to be commended; we all benefit from increased efficiency and conservation, but requiring a multifamily community to simply reduce its existing consumption, without a frame of reference, is not the answer.
This armchair quarterback is the first to acknowledge that a perfect rating system is not easy to construct—and perhaps that is what is driving the grid-lock. There are a numerous variables making the equation complicated: unit size, heating and cooling systems/fuels, common area square footage, amenities, etc. However, the multifamily industry is full of bright individuals who have proven that we can collectively engage to agree on standards that will ultimately benefit us, as well as the residents we serve.
What is your perspective on a formalized rating system for multifamily? Send comments to mgentile@nwpsc.com.
Author Mark Gentile is a utility management expert focused on the multifamily market. The projects he's led are focused on reducing utility consumption via the analysis of trend and benchmarking data. Gentile is the director of product management for NWP Services Corporation.
If you enjoyed this article, please consider sharing it!