There is a lot of hullabaloo around ESG these days.
Environmental, Social and Governance, or ESG, claims and aspirations announced in corporate sustainability reports over the years are coming under scrutiny. Globally, government standards are being created to regulate corporate sustainability claims that influence investors (aka, No greenwashing!). ESG ratings organizations are also coming under fire for how they rate and their respective transparency.
When you consider that nearly $40 trillion is already invested in ESG funds globally(1), it's not surprising that socially responsible or ESG investing — and the growing public demand for regulation of accounting and ESG claims — makes headlines.
One of the most scrutinized areas is how each organization claims and reports its greenhouse gas emissions (GHGs). When it comes to standardizing emissions measurement and reporting, consensus is to focus on Scope, which reflects where emissions are generated and/or curtailed.
What Are GHG Scopes?
Over 30 years ago, in 1990, the first Greenhouse Gas Protocol was established. The resulting accounting framework of GHG Scopes helps standardize quantifying and reporting emissions by type and source.
Estimates are that the built environment— from new construction through operation and demolition — generate 40% to 50% of all the world's emissions (2). As this is nearly half the global challenge, it's good to understand the Scopes and how you can reduce them in your building operations:
Scope 1: Direct Emissions
For real estate, these are the emissions generated onsite, by buildings and their operations. Efforts to lower emissions in commercial and residential properties range from eliminating gas usage, such as replacing gas-fired boilers, water heaters and appliances with electric HVAC, heat pumps, ovens and stovetops. Updating refrigeration also falls under Scope 1 as does electrifying all your vehicle fleet, whether that be service trucks, company cars and even lawn equipment. Installing onsite solar generation coupled with battery energy storage also lowers Scope 1 impact.
Scope 2: Indirect Emissions
Electric-grid power usage embodies Scope 2. The dirtier your local grid, the more Scope 2 emissions. Although the grid's amount of green, such as wind and solar renewable energy, electrons is out of your control, you can make choices to lower Scope 2. Every lighting, HVAC or other efficiency investment you make lowers the amount of electricity you pull from the grid, thus, lowering Scope 2. If you procure a virtual power purchase agreement for solar, that too lowers indirect emissions.
Scope 3: Other Indirect or Value Chain Emissions
This is a huge bucket that embodies everything from your garbage hauling and water treatment impact to employee and resident commutes, cleaning materials, supplies purchased, air travel and so on. Some of the easiest ways to lower your Scope 3 impact are to offer Community Solar to residents, divert more trash from landfills, install electric vehicle charging, lower business travel and monitor to find and address water leaks as they occur.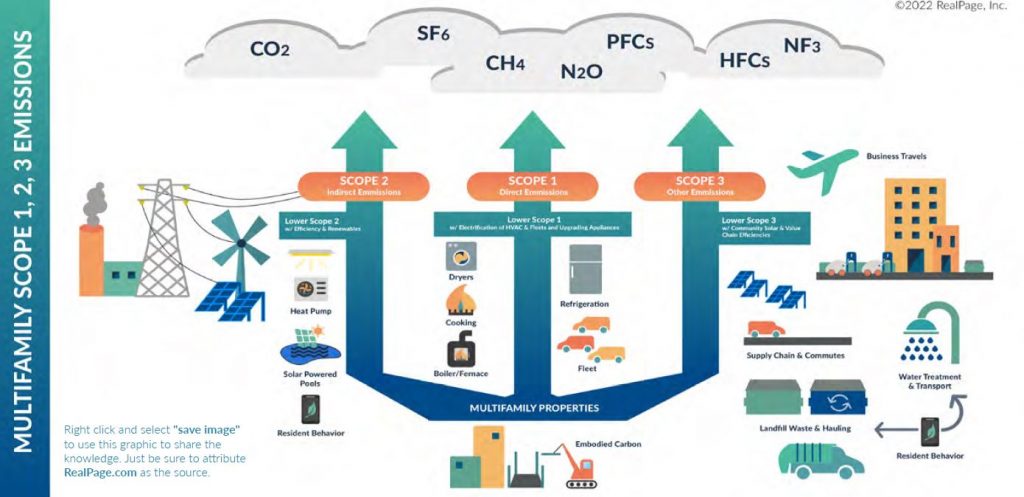 Wait, Isn't There a Scope 4?
If you are paying attention to the headlines, then yes, you've probably heard of Scope 4.
In June, the U.S.'s largest utility company, California's PG&E, raised eyebrows with the public release of its annual Sustainability Report. PG&E claims in its 2022 report that it will not only be "climate-and nature-positive" by 2050, but also that it is establishing "Scope 4 goals to enable customer emissions reductions."
The earliest industry reference I could find on Scope 4 goes back nearly a decade. In 2013, the Greenhouse Gas Protocol authority began a debate whether adding a measurement for goods and services that avoid GHGs and decarbonize the supply chain makes sense.
Although Scope 4 remains unofficial, organizations like Tesla® – which has made its own headlines as it was delisted from a leading ESG index, mostly for its Social and Governance business and operations practices — would certainly benefit from this added accounting of their products' climate change impact.
Is Scope 4 real in real estate? Not yet. And may never be.
According to Dan Winters, GRESB Senior Director, during the heart of the COVID pandemic, there was much discussion about adding Scope 4 for real estate. GRESB is widely recognized as the top organization globally for comparing performance and rating real estate entities for their ESG performance.
So, it's not surprising that when the work from home surge was initiated as part of COVID quarantine, commercial real estate saw a great decrease in their emissions. If there was a Scope 4 for avoided commute and commercial emissions, would that not be good?
For multifamily, however, the shift resulted in acquired emissions as people were home 24/7. So other than commutes, emissions burden was only shifted not reduced. Thus, it's a quandary.
"Scope 4 is in discussion but remains unclear how or if it will ever become part of greenhouse gas accounting standards, particularly for real estate," remarked Winters. "Like many advances to ESG regulations and sector guidance, a combination of preparedness and timing plays a significant element to industry adoption."
As work from home is now a permanent part of our economy and ESG investing is a megatrend here to stay, expect more headlines about GHG and Scopes emissions reporting in the future. Whether or not Scope 4 will be part of those future standards remains to be seen.
Read more from GRESB about Scope 4 at https://www.gresb.com/nl-en/whose-carbon-is-it/
1. https://www.bloomberg.com/news/articles/2022-02-03/esg-by-the-numbers-sustainable-investing-set-records-in-2021
2. https://www.eesi.org/topics/built-infrastructure/description
If you enjoyed this article, please consider sharing it!