Building Benchmarking is Twice as Important in 2022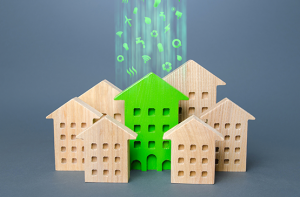 If the past two years of COVID-19 have taught us anything, it's that the built spaces where we live, work and enjoy are extremely important.
Besides reliable internet, healthy and more "green" spaces lead the demand curve as top multifamily and commercial renter preferences for 2022. But how do residents, investors, staff and other stakeholders confidently uncover which properties rank the greenest? That's where whole building benchmarking – a standardized, trustworthy approach to measure the energy and water (and increasingly waste) usage of a building and compare its performance over time to like-types of buildings – comes in. There is plenty that's new in 2022 for mandatory building benchmarking, not to mention escalating voluntary reporting that requires accurate benchmark data.
Before jumping into new mandates, let's start with a bit of history.
15 Years of EPA ESPM Benchmarks (and Counting)
For over 15 years, the EPA has offered its ENERGY STAR® Portfolio Manager® (ESPM) building benchmarking tool for free. More than 275,000 commercial and multifamily properties use ESPM to track their energy, water, waste and materials. Since launching in 2007, ESPM has standardized building benchmarking nationwide:
All federal buildings report energy use and disclose publicly
12 U.S. states today mandate state buildings benchmark
Over 50 voluntary programs leverage ENERGY STAR tools (GRESB, LEED, etc.)
275,000+ buildings (25% of all commercial buildings across the US) have been benchmarked in ESPM
In 2022, 3 U.S. states mandate benchmarking for commercial and multifamily buildings
40+ other local mandates have emerged (more on these later in this article)
Across the U.S., we're monitoring many other local government agencies that are also debating mandatory building benchmarking in the future. According to the EPA, the ultimate goal for property benchmarking, whether for government and finance-related mandate or voluntary reporting, is to tackle the climate crisis through deep energy efficiency and decarbonization of buildings, which today comprise over 30% of US GHG emissions.
Compliance Mandates vs. Elective Reporting
There are typically two types of building benchmarking requirements: compliance mandates and elective reporting.
Compliance mandates come in a variety of types. First are those for building benchmarking codified in federal, state or local laws, thus incorporating detailed and specific requirements. Second are compliance mandates that qualify your properties for financing, such as HUD Green Loans, Fannie Mae Green Financing Incentives and Freddie Mac Green Advantage Incentives.
A third type of mandated benchmarking is required for property taxes and tax incentives or other financial regulations. For investors, we anticipate more benchmarking to comply with Federal Trade Commission investor regulations to standardize environmental, social and governance or ESG reporting in 2022.
Elective reporting, on the other hand, is voluntary. Building benchmarks are used for portfolio-wide, multifamily real estate business operations and investing. The leading elective reporting platform is GRESB, which continues to break records for organizations reporting their real estate performance to be scored and ranked by GRESB. Other elective benchmarking and reporting requirements are used to qualify for the Better Buildings Challenge, achieve LEED ratings for buildings, and even generate quarterly reporting for completely internal yet portfolio-wide building performance comparisons.
Building Benchmarking Scores Are Valuable (and Visible)
Whether a compliance mandate or elective, building benchmarking is seen as increasingly important to multifamily asset optimization. The key is that ESPM benchmarks come with a score.
Based on utility efficiency and other factors, benchmarked buildings receive an ENERGY STAR score between 1-100. The higher the score, the better the asset's performance.
Buildings that score higher than 75, for example, can qualify as "energy-efficient homes," which also qualifies building owners for federal income tax credits and deductions, along with saving billions in energy and water utility costs every year.
Scores are also becoming far more visible.
Take the New York City Benchmarking Law. NYC's benchmarking compliance mandate requires owners of buildings with over 25K square feet to submit their energy and water consumption data via ESPM annually on May 1. The ENERGY STAR score is translated into a Building Energy Efficiency letter grade: A for buildings with benchmark scores of 85 or higher down to F for those that didn't submit. The kicker is that the grades are publicized and must be prominently displayed with an energy label near all public entrances for that building.
More Carrots: Leveraging Benchmarking to Earn ENERGY STAR Certification
Like a badge of honor, an ENERGY STAR certification is awarded to buildings that score at least 75.
As more scores are made public on local governmental websites or posted on buildings themselves, scores and Certifications will matter more to residents and investors alike. In fact, municipalities like Orlando make it easy to search scores for all compliance-mandated buildings.
While it's very rare to rate a perfect 100, we've found that many situations involve incorrect data on property size or equipment that cause inaccurate scores.
In the past, this wasn't so important. But as more jurisdictions are now enforcing benchmark mandates and penalties, including municipal auditors cross-referencing ESPM inputs on square footage and more against tax records, the accuracy of data potentially impacts costs, too.
More sticks: Benchmarking Penalties, Tax Record Audits and Retro-Commissioning
Of the nearly 45 US state and local mandates we're tracking right now, the majority also include penalties for inaction that vary greatly in the amounts and types of penalties levied.
For example, penalties for noncompliance with local benchmarking mandates range from annual fees of up to $5000 per building to daily penalties of $100 or more!
In addition, low-performing buildings — those with ENERGY STAR scores at or below 50 – are put on improvement plans. Audits and retro-commissioning, which uses a systematic procedure delivered by certified engineers to make immediate improvements and recommend investments that will increase a building's energy efficiency.
Mandates Requiring Building Audits
About one-third of state and local benchmarking mandates require building audits, at the beginning of the benchmark and/or throughout the building's operations. Regular schedules are typically every 5 years with a handful at 10.
The exception is when a building scores less than 50. These low-performing buildings require audits at the time of the low scores. The most common type is an ASHRAE Level 1 audit.
Why Your Building May Be Exempt From Audits
There is a wide variety of reasons that your property may be exempt from audits. Whether mandated or voluntary, benchmarking your buildings is proven to deliver better NOI because you know how well that building performs.
Working with a reputable vendor is highly valuable if they track all of the changing mandates so you're not penalized, know the valueadd benefits of incentives that require building benchmarking, and serve a customer base you can compare to your own properties.
What's New for Business Benchmarking in 2022?
We're tracking nearly 40 cities and counties and 3 states that have mandatory building benchmarking on their books for 2022. Major additions or changes you need to be aware of include:
1) State of Colorado now mandates benchmarks submitted by December 1, 2022, and annually thereafter for multifamily and commercial buildings of 50,000 or more sqft.
2) Ann Arbor, Michigan, now requires benchmarking by June 1 for buildings with 100,000+ sqft, 50,000+ in 2023, and 20,000+ in 2024.
3) Chula Vista, California, now requires benchmarks for 50,000+ sqft, dropping to 20,000 sqft by 2026.
4) Other changes across the US — from Washington, D.C. to Boston, Massachusetts to Reno, Nevada — range from increased penalties and updated building qualifications to and new audit and retro-commissioning requirements.
If you're the competitive sort, you know that stats are crucial to a good game strategy. Building benchmarking — whether to meet mandates or voluntarily report to improve investor confidence — is a valuable resource.
Keep up with business benchmarking changes online: https://www. realpage.com/utility-benchmark/
Measuring the RealPage Impact in Building Benchmarking
In 2021, RealPage benchmarked nearly 2,100 different properties and achieved 100% compliance for our benchmarking SaaS customers. We also set up 300+ buildings implementing for WasteWise, the newest measurement for ENERGY STAR Portfolio Manager, helping to eliminate 14,000 metric tons of CO2e through recycling and other waste diversion. Through our Energy and Water Conservation or ECO Services, we've also helped reduce multifamily consumption of 18,850 gallons of water, 5,163 MWh of electricity and 85,000 therms of gas. Our growing Procurement of wind and solar, including community solar in select markets, has also eliminated 12,400 metric tons of CO2e, the equivalent of carbon sequestered by 15,195 acres of forest annually.
Building benchmarking is big in multifamily — and growing bigger
Lowering consumption of energy and water is highly desired by apartment residents, both for the utility cost savings and for the environmental benefits. Shifting to solar or wind-generated energy, offering EV charging, and supporting composting and recycling are building services also growing on the renter popularity curve.
These community conservation measures also contribute to healthy spaces. Renters, staff and investors alike are seeking buildings with proper filtration, fresh air flow and low VOCs (volatile organic compounds and gases that negatively impact health and wellness).
Whether mandated or voluntary, building benchmarking is becoming an increasingly useful tool for evaluating multifamily real estate investments, boosting operational efficiency and attracting residents.
If you enjoyed this article, please consider sharing it!