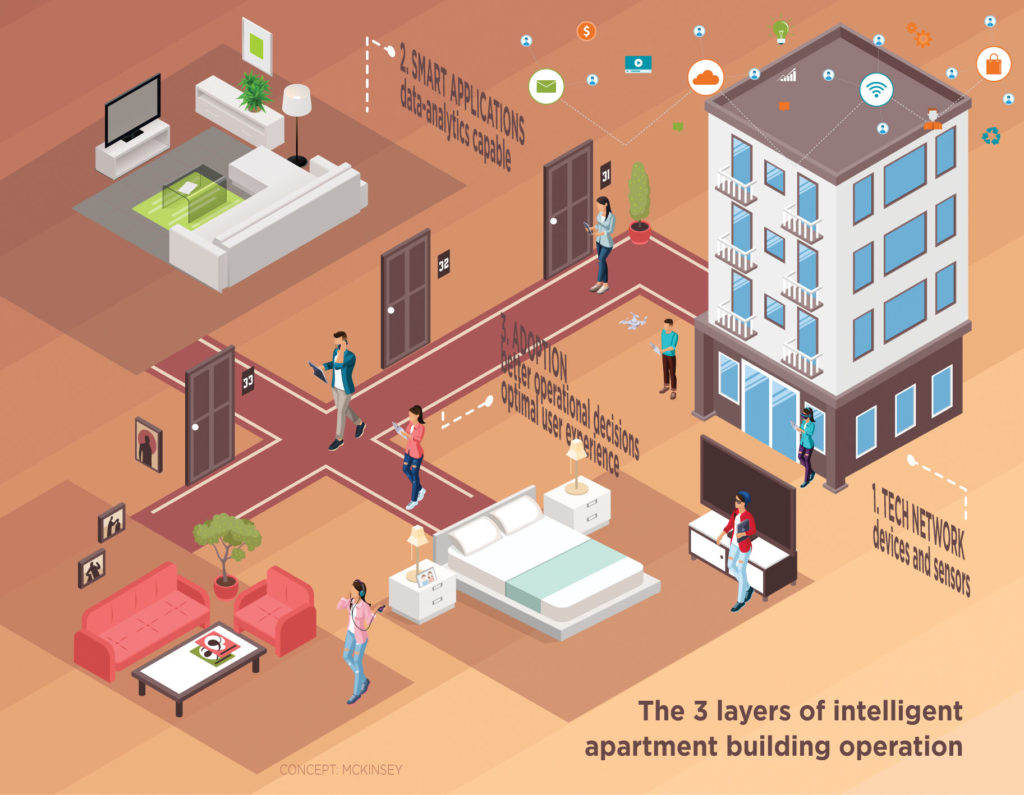 Today's apartment owners are tasked with finding digital solutions for more livable communities. It's a new day and a new experience for resident and owner, alike.
As apartment communities become more intelligent, operations must become more efficient and communities more responsive. From utility billing to maintenance requests to predictive analytics, we're beginning to see what technology can really do in the rental environment.
Because of its major impact, attractive pay-off and gateway to green financing, energy management is an easy-to-justify point of entry into this brave new world of smart living. In the bigger picture, this gateway to sensors and automation not only opens up a new world of holistic facilities management, but also drives new points of engagement with residents through their smartphones and other personal devices.
Almost miraculously, the historic resident-owner barrier has been breached by the smartphone. This portal to the other side affords apartment operators more points of resident engagement, but its real power is far more world-changing.
Operating from a unified platform, apartment owners can use apps to nudge residents toward desired behaviors, like power conservation on peak consumption days, to digitize management functions for an improved resident experience and to track aggregated behavior snapshots to identify patterns and appropriate responses for improved and streamlined property operations. Smart operations let owners get more from any asset, no matter the type, age or renter profile.
With the promise of strategically-positioned automated processes and predictive analytics on the horizon, this may be the pivotal moment to evaluate your operational platform.
Designing the future
Management software should be poised for break-out functions that seamlessly transition into smart functions. There are big promises on the horizon, but big data is merely undeveloped land. What and how you build, whom you've partnered with in collecting and holding the data and the ultimate system vision will determine the result. Authentically smart platforms create room for partnerships to build out the multiple technologies and services required for a whole property ecosystem with the resident experience at the center.
Sensors, software and infrastructure exist here and now, not tomorrow and whenever. For apartment operators, making the most of their potential means measuring innovation and strategy by results and performance. Getting past the promises and focusing on the results not only leads to a shared vision and aligned business priorities, but also identifies those with the understanding and foresight to build the infrastructure for more liveable apartment communities.
Smart is an ecosystem
As business owners and operators, we've developed the ability to identify real-world dynamics. With this clarity of vision comes a keen skepticism as we sort through what's hype and what's real, especially in the sometimes-intentionally-jargon-filled world of technology.
In the tight-margin world of property management, it all comes down to results.
After a decade of big promises and bigger expenses, smart is now about installing digital interfaces in traditional infrastructure to streamline apartment operations. This includes using technology and data to systematically enable better decisions. Real-time data lets apartment operators watch events unfold versus being stuck reviewing history after a problem has occurred. Such a vantage point lets apartment operators recognize patterns and respond faster with lower-cost solutions.
Smart technology can also deploy scarce resources and personnel more effectively. Applications such as building automation systems and dynamic electricity pricing are just a couple of tools that are already lowering operations costs in the industry.
Providing immediate feedback messaging on power consumption is already nudging residents toward conservation and reducing consumption by up to 15 percent in some cities. Why not in apartments? Using sensors and analytics to know, in real time, when a water leak has occurred is already deployed in many properties, cutting losses by a quarter or more. Pay-as-you-throw digital tracking of trash has reduced solid waste by as much as 20 percent.
Intelligent apartment communities must harness this data to develop new insights as well as new products and services. Smart communities that integrate smart technologies, can enable the rapid delivery of new applications, and create connected ecosystems that truly transform their property's efficiency and resident experience.
If you enjoyed this article, please consider sharing it!