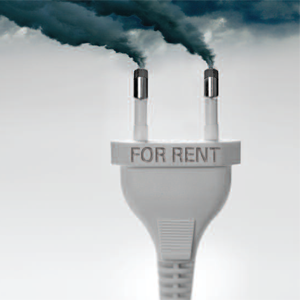 Renting an apartment can seem like a compact, environmentally-efficient way of living, but when it comes to energy use, that's not always the case. University of California, Berkeley economists Lucas Davis and David Levine recently found that renters are significantly less likely than homeowners to report having efficient Energy Star appliances.
What's going on here? Davis and Levine think it's the so-called "landlord-tenant problem." Simply put, landlords have little incentive to buy energy-efficient appliances for their rental units, because the renters themselves typically pay the utility bills. In theory, landlords could buy efficient appliances and pass on the cost as higher rent, but they might have a hard time telling potential tenants exactly how much they'll save on utilities.
"As a consequence, rental units tend not to be very energy-efficient," write Davis and Levine.
A working paper by Davis points to three rental appliances as particularly inefficient: refrigerators, washing machines, and dishwashers. His data came from a national survey of residential energy consumption. The survey indicated who paid for utilities (tenant, landlord, or owner) and excluded units with utilities included in the rent.
Davis found the renter-homeowner disparity persisted even when controlling for factors like household income, weather and other demographics. He also effectively ruled out explanations other than the "land-lord-tenant problem," including the possibility that homeowners and renters simply have different tastes for green appliances.
Case in point: when it comes to air conditioners, the pattern doesn't hold true. More renters report having Energy Star models than homeowners do. That's because renters often bring in their own air conditioners, moving them from unit to unit with their other belongings. In contrast, appliances like refrigerators or washing machines are much less portable, making it unlikely a renter would buy their own.
Davis concludes that if renters had as many energy-efficient appliances as homeowners, annual energy consumption would decrease by 9.4 trillion BTUs across the United States. (That's only half of 1 percent of total energy consumption in rental units, writes Davis, but that figure would likely rise if all household appliances were considered.) Under this scenario, energy expenditures nationwide would be reduced by $93 million, and carbon emissions by 166,000 tons.
To address the problem, Davis and Levine recommend that cities create energy "report cards" so potential tenants could consider energy costs while shopping for an apartment. Ideally the report card would give an expected utility cost per month and state how much higher (or lower) that cost is compared to other apartments the same size. Cities can develop their own criteria and require energy labels without federal approval. Efficiency awaits.
Contributor Eric Jaffe
If you enjoyed this article, please consider sharing it!