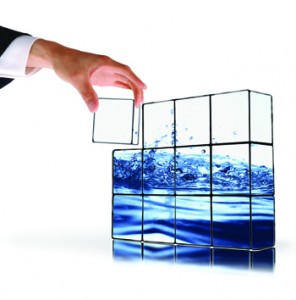 To effectively manage risk, you must manage information.
This begs the question, what are the inherent risks? In today's environment, macro risk, at the economic and regulatory level, breed micro-level challenges for multifamily owners and operators who are particularly sensitive to changes in utility costs.
Micro-level risks, when understood, are far more controllable. They encompass specific behaviors, actions and expertise that, when combined and controlled properly, allow you to minimize exposure and cost.
Primarily, these are broken into two risk categories—price and consumption.
Understanding the drivers of these categories, and the tools available to manage them, is essential to controlling both top and bottom line effects from ever-changing utility expenses.
Price Risk
Although the pace of deregulation has slowed, many markets are still open for natural gas and electricity procurement. Prices in these markets are determined, in large part, by larger national and even international, events. However, these utility markets are still local and require specialized knowledge to properly navigate.
For example, electricity is the most volatile commodity on the planet. A quick look at the hourly NYMEX pricing charts can quickly induce nausea for those trying to make buying decisions. Unfortunately, many of the mainline commodities trade this way. And even commodities (think water) that are not traded, have experienced general upward pricing trends.
Product selection is also critical. As you would assess your risk tolerance and outlook when purchasing a multifamily asset, purchasing deregulated commodities presents an array of choices often unique to certain vendors and certain markets.
For example, would the buyer be more comfortable with a fixed price product with a fixed term? Or a floating rate product? Or a combination?
Even when markets do not offer a choice, regulated utility rates must be evaluated. Each property within a portfolio has different usage patterns, and these patterns must be matched to the prevailing utility rates in order to select the best fit.
To get optimal pricing, it is important to have accurate consumption profiles for each property. Armed with solid data, an expert advisor can guide buyers through the universe of vendors, products, contract terms and delivery performance toward the most suitable fit. Proper ongoing bill and information management is also key to accurately evaluating a supplier's performance.
And all markets must be evaluated on an ongoing basis in order to properly prepare for unanticipated events or opportunities which will dictate your risk and expense. This is particularly important as well, considering that a buyer's portfolio may change over time in terms of location and overall usage profile.
This cross-section of purchasing complexity typically requires a buyer to seek levels of information and expertise that do not normally reside within their companies. Decisions on product, timing and term of agreement, can have significant impact on expense and, ultimately, savings.
Consumption Risk
Consumption is often the more controllable side of the risk equation. The most certain way to pay less is simply to use less.
Many factors drive usage—behavior, weather, business activity, equipment profiles, etc. The challenge is to understand which factors impact the usage in a way that is controllable, but does not negatively impact customer satisfaction.
Having both a top-down and bottom-up view of your properties' usage is inherent to understanding where changes can be made. Are there outliers? Are there employee or resident behavior patterns that could be changed? Should you invest in newer, more efficient equipment, and what is the ROI?
Plotting outliers, comparing similar properties, and then dissecting the details is the only way to develop a comprehensive strategy with specific, actionable tasks. Again, changes in the individual property and/or overall portfolio, can have a major effect on contractual pricing in terms of committed volumes or selected regulated rates.
Many companies don't, nor should, house the full-caliber resources needed to develop or execute complicated utility plans. Having detailed, and easily-accessible data, organized in a usable fashion, is key and the first step to leveraging this expertise toward a discernible return on your bottom line.
Going forward
The best way to employ the appropriate expertise and make good decisions, is to engage the best information management.
Staggering variation in utility billings across vendors creates a need for information and normalization processing, and reporting on a world class scale. And, given the nature of utilities, this information processing must be done at a rapid pace to avoid unpleasant financial or operational occurrences.
What does that mean? Multifamily owners and operators must secure their utility management needs with a solution that is capable of staying in front of the complex, ever-changing, utility environment.
A buyer must have confidence that utility information will be received and processed quickly and accurately. They must know that the information will be properly organized, stored and secured. Information must be presented in ways that create answers to the problems of price and consumption risks and changes.
The value of your utility information is enormous, but its proper management will help you mitigate risk, and achieve the desired financial result. As such, it's critical to select a utility management provider that offers utility invoice processing capabilities, proven financial stewardship and the scale, speed and certainty to deliver a utility management program that will create fundamental, positive changes for your bottom line, and deliver the credibility and service to your residents.
Author Jason Woodward is a utility expert with nearly 20 years experience in regulated and deregulated markets. He has built and led rate analysis, information management/reporting, billing/operations, customer service, sales and marketing, and product development functions for some of the leading energy-related companies in the nation. Woodward is VP of sales and marketing for Cass Information Systems (Nasdaq: CASS) in Columbus, Ohio.
If you enjoyed this article, please consider sharing it!