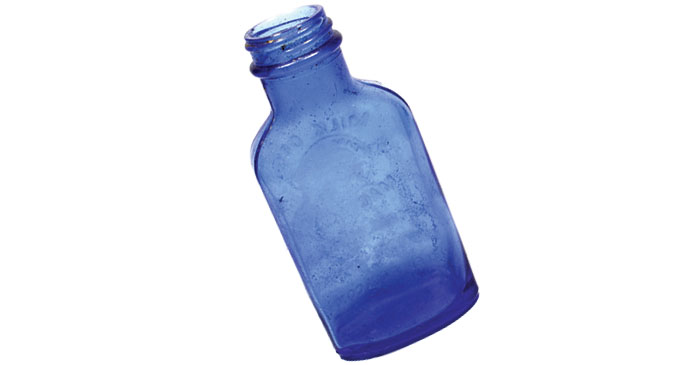 I grew up in unincorporated Fresno, California (the part of Fresno that Fresno didn't want). It was rural. We were on well water and grew crops. The barn was built in 1912 and the house in 1913. We modernized the house and eventually added a pool.
We didn't have a lot of money so the pool was an above-ground Doughboy. Because we were classy, we dug a hole and partially buried the pool.
Digging that hole was magnificent to 6-year-old me because in the process of digging we discovered buried treasure. I should be clear—buried treasure consisted of old bottles, cans and other items that the original owners had buried as trash.
In our quest for the perfect pool we excavated their landfill. I still love thinking about the magnificent blue glass bottles (for some sort of elusive tonic) and the rusted tin cans that I was certain were worth a fortune. One man's trash was now my treasure. With such treasure I collected knowledge and potential from the past.
I look at our industry and see how far we have come with respect to utility management, where we stand in this moment, and sense what is to come. I experience the same wonderment that I did as a child. There is so much potential NOI in an expense category that has historically been discarded and deemed uncontrollable.
We have gone from a view that you can't impact utility cost or consumption, to wide adoption of LED lighting retrofits and ENERGY STAR appliances, to net zero and passive house. Some of this shift in perspective comes from resident demand. Some catalysts of change are mandated from new investment partners from outside our industry: lenders and (let's call it what it is) regulators.
Despite these influencers, our shift also derives from common business sense. We have learned (and continue to understand) that utility spend is controllable, that there is value in managing it, and that to future-proof our communities not only better positions our assets for tomorrow, but improves our bottom line today.
When we ask, "Is it sustainable?" we seek to preserve NOI and improve it within the course of our actions. We welcome the opportunity to do better, drive revenue, reduce costs. That's not to say it's easy. Sustainability requires knowledge and experience—both of which we gain through the "new normal" of utility management.
We all know the problem. The question, is how do we acquire knowledge more quickly? Where do we dig to find opportunity?
You are a great treasure hunter. You know that value exists—but wouldn't it be nice to have a map where a big "X" marks the spot?
It is my privilege to bring you this Journal of Utility Management to help on your mission to control a top expense category. "Is it sustainable" is the map to efficiency, accuracy and to reduce costs—all buried treasure found in your own backyard.
---
Mary Nitschke, Publisher
If you enjoyed this article, please consider sharing it!