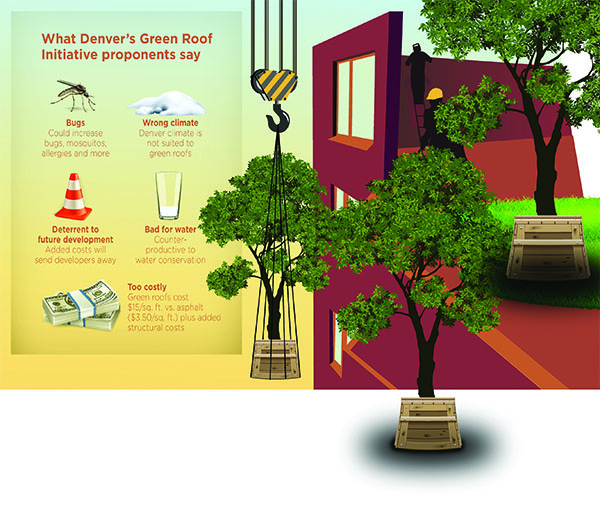 Denver recently passed its Green Roof Initiative requiring new and existing buildings to add green spaces to rooftops. Is your city next?
The residents of Denver, Colo., voted to institute a Green Roof Initiative. Buildings over 25,000 sq. ft. must now build out a portion (20-60 percent depending on the size of the building) of their building's roof space as green—or dedicated plant space.
The new building code, which officially went into effect Jan. 1, 2018, requires that all new buildings constructed on or after this date dedicate a portion of their roof to green space. The space can include plant material, a community garden, urban agriculture, or similar treatment. The space may include a combination of plant materials and solar as specified by the ordinance.
The code also requires that all existing buildings greater than 25,000 sq. ft. and over 4 stories high add green space to their roof at the time of normal roof replacement.
Failure to comply with the mandate will result in fines, imprisonment, or both, states the ordinance.
Exemptions include Energy Star-rated buildings, schools and buildings deemed unable to handle the structural load required, and buildings that are 100 percent solar.
Still, many buildings will be required to comply with the new law with the cost falling on the developer or building owner.
Cost is the main concern surrounding such an initiative. Green roofs can cost as much as $15 more per sq. ft. than traditional roofs.
Denver joins San Francisco, the only other U.S. city to effect a mandatory requirement of green roofs on new and existing buildings. At present, a larger number of cities across the country offer incentives for those building or retrofitting green roofs, in order to encourage green roofs.
There is no doubt that this initiative will impact both on our environment and the construction environment in Denver. Will your city be next to adopt this requirement?
Lori Hanson, CAM, CAPS is based in Denver, Colo., and currently serves as a Client Services Manager for Greystar, where she is responsible for organizational initiatives, client relations, and project management. Lori began her career in the multifamily housing industry in 1999, and has held a variety of positions both at the on-site and corporate levels. Lori holds a BS in Management from the Metropolitan State College of Denver and a Master of Science degree in Management from Troy University. 
If you enjoyed this article, please consider sharing it!