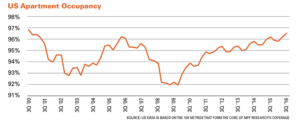 Always busy and focused on your operation, you may not have time to stay on top of updates in the apartment market when it comes to supply, demand, rents and occupancy. So how is the industry fairing overall? During a recent live webcast, MPF Research, the market intelligence division of rental housing technology firm RealPage, Inc. discussed numbers and analysis covering the third quarter of 2016, and there were some interesting observations.
First, rumors of a slowdown seem to be somewhat groundless. While it's true that rents aren't rising quite as quickly, rent growth remains at 4.1 percent for the nation's core 100 metros. And even though this represents a two-year low, as RealPage Chief Economist Greg Willett puts it, "Are we really going to complain about 4.1 percent growth?" That's not as hot as it was, but it's plenty warm—particularly in an economy with an inflation rate well under 2 percent.
At least partially responsible for spurring slowdown fears has been the knowledge that lots of new apartments are either coming onto the market or will be soon, driving expectations that oversupply will push prices down. But MPF data points out that most of the new supply is top-of-market rather than class B or A-, leaving the bulk of the market with plenty of demand to soak up the available supply. Q3 occupancy came in at 96.5 percent nationally—a 15-year high.
Downtown vs. the 'burbs
An eye-opening MFP analysis of metros vs. suburbs turned up data that's surprising in light of the recent drift towards multifamily projects in central business districts (CBD).
Suburbs of high-growth metros, it turns out, are matching these fashionable urban projects in cap rate, while offering a lower cost of entry and less vulnerability to market volatility. This being said, developers of CBD projects have been driven as much by hopes of asset appreciation as by income, and they've been rewarded as the hunger for downtown properties has continued. But MPF questions how much longer this rise in values can continue.
Capital considerations
Apartments remain a favored asset class for investors struggling to find safe harbors with adequate returns for their cash. While as of August the average cap rate stood at an unimpressive 5.61 percent (a record low), that's not bad in an economy such as the one we're in. The spread over the 10-year treasury remains very attractive, and apartment buildings continue to be perceived as among the more solid investments out there.
NMHC head talks affordable
The MPF Q3 webcast also included special guest Doug Bibby, president of the National Multifamily Housing Council. Most of the talk focused on the lack of designated affordable housing and the failure of the federal government to address the problem – particularly over the past year or so as elections have taken center stage. Bibby said the NMHC is carefully watching the issues even during this hiatus, with particular attention to preventing debacles for multifamily as exemplified by the 1986 Tax Reform Act and as threatened by soon-to-be empty coffers at Fannie Mae and Freddie Mac.
Bibby is hopeful that the newly formed non-profit NMHC Research Foundation will be a strong force in protecting the interests of the multifamily industry and investors during what promises to be a volatile political environment over the next few years." 
To watch an upcoming MPF Research live webcast go to: http://www.realpage.com/yieldstar/mpf-apartment-market-updates-trends-webcasts/.
If you enjoyed this article, please consider sharing it!