The energy procurement outlook in 2015 has been all blue skies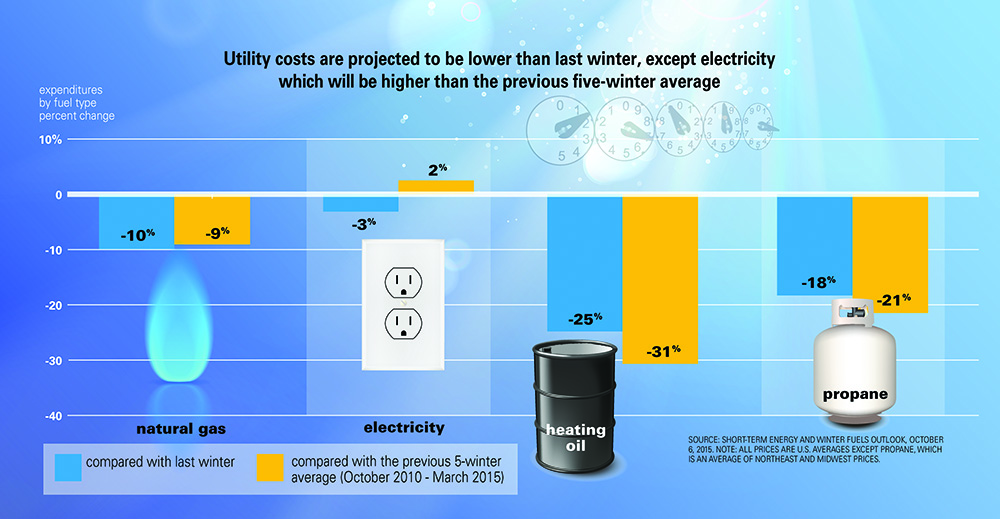 Did you feel that gust of wind? That was from the fall of gas prices. Every 1-cent drop at the gas pump means about $1 billion back into the economy and the pockets of consumers say experts, so 2015 saw quite an infusion of found money. But with the biggest windfall behind us, attention shines even brighter on rent and utility expenses.
The brief relief, such as it was, is over. Whereas other rising costs, such as rent, may have been somewhat muted by the extra cash from the pump, this turns the dial up on keeping rent costs efficient. High rents place even greater pressure on residents and landlords to control utility costs.
Coal today, gone tomorrow
Natural gas took the lead in generating U.S. electricity in September, surpassing coal for the second time ever says the U.S. Department of Energy (DOE). Natural gas fueled 35 percent of total electricity production compared to coal's 34.9 percent output. The first time this happened was April 2015.
And there's more good news. Energy costs are projected to be down this winter according to DOE's most recent annual prediction. This is due to forecasted increased temperatures across most of the country through the winter months, and lower per-unit energy costs.
Along with predicted warming temperatures, high inventories of propane will translate to savings. Having built inventory through the summer, supplies remain high. As such, wholesalers can seek to unload their gas and that will lead to better prices.
According to the U.S. Energy Information Administration's (EIA) October edition of their Short Term Energy Outlook, they projected that average U.S. household expenditures for natural gas, heating oil, and propane during the upcoming winter heating season (October 1 through March 31) will be 10 percent, 25 percent, and 18 percent lower, respectively, than last winter, mainly due to a combination of lower fuel prices and lower heating demand. EIA predicted that occupants using electricity to heat their homes will experience 3 percent lower costs than last year at this time.
Check the weather
Long-term forecasts by the National Weather Service (NOAA) predicted this year's winter temperatures east of the Rocky Mountains to be warmer than last winter. This includes heating degree days, that is where outdoor temperatures require energy use to maintain an indoor temperature of 70 degrees Fahrenheit, in the Northeast, Midwest, and South, respectively, at about 13 percent, 11 percent, and 8 percent lower. In the West, winter is expected to be 12 percent colder than last.
This is good news for landlords, as rents continue to rise for lack of inventory and energy costs are lowered due to warmer weather. 
If you enjoyed this article, please consider sharing it!