You don't miss the water until the river runs dry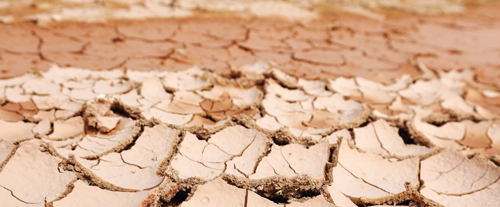 Texas is in its fifth year of near-record drought; only the dry spell of 1950-57 was worse. While such weather cycles are typical for Texas, the optics on fracking may be magnifying an already unwieldy management of the state's fresh water.
Truth be told, the Texas State Water Board reports that water use by the oil and gas industry amounts to less than 1 percent of the overall water use in the state. But during record droughts, it's still 1 percent the state doesn't have.
Known for its weather cycles, Texas has suffered chronic water shortages throughout its history. Certainly, a perfect storm of dry weather, fracking's stigma, and a legislative drive toward conservation has particularly articulated the need to effectively manage this precious resource.
For their part, the oil and natural gas industries have become increasingly creative in their water management efforts so that producing the vast oil and natural gas underfoot has gotten more efficient, using less water over time.
With the proliferation of fracking dollars has come advancing technology that includes everything from proprietary water recycling architecture to water systems that work with total dissolved solids (TDS) and brackish (salty) water. Such headway will be important to the country's evolving acceptance of fracking and conservation of existing fresh water reserves.
As property owners and operators must rely on facts to inform efficient operations, it's important that the public and policymakers seek to manage future water use based on accurate data rather than public perception.
The true culprit may be the state's rich taste for lush landscapes. The volume of water used by Texans to water their lawns is 18 times greater than that used in hydraulic fracturing operations according to University of Texas Professor Rusty Todd. Conservation is important. And targeting the biggest water users for efficiency makes the greatest sense on the bottom line.
According to the State of Texas, and as quoted within its state water plan, the top three water user categories in Texas are municipal (people), agriculture (irrigation of crops) and industrial (manufacturing).
Still, it will be fracking revenue that will fund the state's Proposition 6 which passed in November. The much-deliberated amendment establishes a fund beginning with $2 billion of tax revenue from oil and natural gas production. These monies will fund infrastructure development providing additional water supplies during periods of drought, and earmark 20 percent for new methods of conservation.
Advocates saw it as necessary relief to the ongoing lack of water that is only expected to get worse. Opponents saw it as a scheme to set the state up as a bank. All agreed that something be done to ease the tension between water use and a growing population expected to double in the next 50 years.
Texas is growing at a rate of about 400,000 people a year; with that growth comes an increased demand for water from a proverbial well that is already low.
"In the 1950s, about 85 percent of our population lived in rural areas," says Dr. Andrew Samsom, head of the Meadows Center for Water and Environment at Texas State University. He was referring to the record-breaking drought of the 1950s. Now 85 percent live in urban areas.
In the 50s, those in rural settings had a better understanding of resource dynamics. Today there is a greater distance between supply and demand. People turn on their faucets or flush their toilets and just assume water will be there.
Samsom and others see conservation as important to protecting the state's future fresh water supply. The easiest water to save is the water we already have, says Samsom. In dry El Paso, San Antonio, even Las Vegas, you don't have to explain conservation, he said. They get it and look for inventive ways to reduce water consumption.
Education to modify group behavior is the fastest and lowest-cost way to save water in homes and apartments, and directly affects water's largest user group. And the fact that the whole of Texas is suffering through the water shortage may also be a teachable moment and fertile ground to instill principals of conservation.
Group-think seems to be the most effective way to guide populations toward conservation according to a recent study.
Researchers ran an experiment in hotels where they compared the effect of 2 different messages printed on cards and left on the towels in the bathrooms: Message 1 was "save the environment. Re-use your towel." It got only a moderate response.
The second message: "Over 75 percent of our guests re-use their towels. You, too, can help save water."
Nearly half of those who saw the "everyone is doing it" note participated in the conservation program and re-used their towels.
So my message to Texas: "Institute water conservation measures at your communities today and get the savings the rest of us have already banked."

Author Mark Copeland heads management operations of Atlas Residential based in Addison, Texas. Atlas manages 3,500 units.
If you enjoyed this article, please consider sharing it!