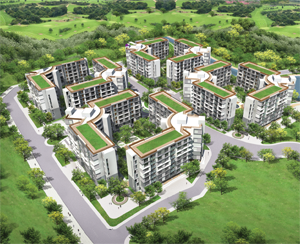 Across the U.S., the Green Building Council has helped thousands of developers win tax breaks and grants, charge higher rents, exceed local building restrictions and get expedited permitting by certifying them as "green" under a system that often rewards minor, low-cost steps that have little, or no, proven environmental benefit.
The council has certified 13,500 commercial buildings in the U.S. as green, and has become one of the most influential forces in building design by helping persuade public officials, and private builders to follow its rating system known as LEED.
More than 200 state, city and federal agencies require LEED certification for new public buildings, even though they have done little independent, or meaningful, research into its effectiveness. LEED can add millions to construction costs while promising to cut utility bills and other expenses.
Los Angeles, Miami, Boston, San Francisco, Baltimore, Washington, and roughly 85 other cities require some private commercial buildings to follow LEED. And nearly 200 jurisdictions give LEED builders tax breaks, and other incentives.
LEED, or Leadership in Energy and Environmental Design, awards buildings points for features that aim to minimize emissions, water use, waste and indoor pollutants. A new commercial building needs 40 out of a possible 100 points for certification.
Most design teams has won a point for including someone who has passed a LEED exam. Thousands more have won points for giving office workers their own light switches, views of the outdoors, or temperature-control mechanisms, which can include operable windows or desk fans. More than 6,000 buildings received credit for using structural steel or concrete, common building materials considered green because they are made from recycled material.
"People have a tendency to buy points-they buy that bike rack even though there's no value in it," said Kansas City, Mo., architect Bob Berkebile, who helped create LEED in the 1990s and remains a strong proponent. "It's unfortunate. That's just where we are at this time."
Yet environmentalists and experts widely praise LEED for sparking environmentalism in the building industry.
"LEED put this on the agenda singlehandedly, and rallied a mass of people interested in green buildings who didn't have a framework," said University of California engineer Arpad Horvath, whose 2006 study criticized LEED for not considering the lifetime effect of its various points.
LEED also expanded green practices such as energy modeling of buildings, and of green products such as low-flush toilets, low-emitting paints and materials made from wood that is sustainably harvested.
"LEED has been one of the most significant drivers of forest conservation in history," said Corey Brinkema, president of the Forest Stewardship Council U.S., which promotes sustainable forestry.
LEED's growth has been driven partly by the building council itself, a 13,000-member non-profit chiefly run by architects, builders and building suppliers. Many specialize in-and profit from-the type of design the council certifies and promotes. The council collects up to $35,000 in fees for each LEED certification.
Building council members have boosted their own LEED-related businesses by helping persuade officials to require or reward LEED certification. LEED also helps developers market buildings to tenants and investors, and collect higher rents and sales prices, University of California economist Nils Kok said.
"A lot of the fuel for LEED is marketing advantage," said Bill Walsh, executive director of the Healthy Building Network, which promotes non-toxic building materials. "People are interested in how they get the (LEED) credits, not in thinking deeply about it."
But LEED does not require designers to take specific steps beyond meeting minimum standards in water and energy conservation, recycling and indoor air quality. Designers chart their own course to certification, choosing from roughly 50 options that range from minimizing light pollution, and storm water runoff, to maximizing interior daylight and ventilation. More options bring higher certification levels-from Silver to Gold to Platinum-and sometimes bigger tax benefits.
The most popular LEED option-earned in 99.7 percent of buildings-has no direct environmental benefit, but generates millions of dollars for the building council by giving one point if a design team has a LEED expert. People become experts by passing a LEED course and paying $550 to $800 to a non-profit that the building council created in 2007.
More than 90 percent of the buildings got points for using indoor paints, adhesives and flooring that aim to protect occupants' health by emitting fewer contaminants. Widely-used, the materials add little cost, and have no impact outside the building.
Another easy point, earned by 91 percent of the buildings, is for using building materials with recycled content. That includes steel and concrete, standard building materials that usually yield a point for being made within 500 miles of a building site.
At the other extreme, only 14 percent of buildings generate renewable energy, and 12 percent include major water-reduction steps such as using waterless urinals or treating sewage on site.
The Tower Companies, a Maryland developer, got a $1 million windfall by adding last-minute features to an office tower near Washington, D.C. Aiming for Gold certification when construction began in 2007, company officials realized when the building was nearly finished that they were close to reaching Platinum. They added preferred parking spots for hybrid cars and a system that channels cooling-system water to outdoors landscaping-and turned a $530,000 property-tax break for Gold, into $1.6 million for Platinum.
The money was not the goal, said David Borchardt, Tower's chief sustainability officer. But the extra incentive for Platinum certification "more than made up for the cost" of the two extra features, he added.
In 2009, responding to criticism, the building council revised LEED to put more emphasis on energy conservation.
But the revision increased the uncertainty about LEED and highlights a central problem: LEED certification is awarded before occupancy. Points for minimizing energy and water use are based on projections, not on actual energy and water use.
"That's like the ranking of football teams before the season starts," said Oberlin College energy expert John Scofield, who testified before Congress in May.
Designers can earn up to 19 points for projecting lower-than-average energy use. The projections come from computer models that analyze hundreds of features such as insulation and sun exposure. Such models are good at comparing designs to show which would use less energy. But they are bad at quantifying actual energy use, which depends largely on how a building is used and maintained.
"Buildings have a poor track record for performing as predicted during design," the council itself reported in 2007. "Most buildings do not perform as well as design metrics indicate."
The Environmental Protection Agency says "it is a common misconception that new buildings, even so-called 'green' buildings are energy-efficient." The EPA's voluntary EnergyStar program certifies only buildings that prove energy efficiency over a year of occupancy, and rates buildings every year.
A little-noticed study of Navy buildings showed that four of 11 LEED-certified buildings used more energy than a non-LEED counterpart. Of the seven others, four were better than their counterparts by 9 percent, a level of improvement that is insufficient to earn any LEED points.
LEED tries to address the problem by offering one point for buildings that measure actual energy use. Only 23 percent of the LEED-certified buildings have taken that option.
Building council SVP Scot Horst has long pushed to require LEED-certified buildings to report their energy use, but faces resistance. "A lot of people don't want to disclose that information-they feel like somehow their energy data is like dirty laundry and shows they haven't connected their ability to use energy wisely," he said.
A new version of LEED, likely to become mandatory in mid-2015, will require building operators to write a plan for running a building efficiently, and to tell the council a building's energy, and water use, for five years. In recent years, the council has started to review energy and water use for LEED buildings that volunteer the information, and tells owners how they are doing compared to projections.
The new version requires low-emitting paints, and other items to pass lab tests, and LEED-friendly materials to demonstrate a wide range of environmental benefits.
Some officials shun LEED or require builders only to follow its guidelines without getting certification. Kentucky law urges school districts to get new buildings certified by LEED, or by the EPA. The overwhelming number opt for the EPA because it's free and requires energy efficiency.
Governors, mayors, state legislators, and federal administrators, have been forceful LEED advocates who helped it flourish nationwide. About 26 percent of LEED-certified buildings are government-owned.
But officials have embraced LEED and similar standards "often without fully understanding their benefits, trade-offs and costs," says a 2009 study by the National Institute of Building Sciences, a research group.
The federal General Services Administration (GSA), which owns and leases 9,600 buildings, gave crucial support in 2003 when it began requiring LEED certification for its new and substantially-renovated buildings. Every federal department now follows green building practices along with 35 states. Roughly 170 cities give LEED builders tax breaks, grants, expedited permitting or waivers allowing them to construct larger buildings than local law allows. Roughly 2,000 developments, buildings, and homes, have received $500 million in tax breaks nationwide.
If you enjoyed this article, please consider sharing it!